Mitt Romney: GOP Needs A Nominee 'Who Has The Capacity To… Raise Money To Be Competitive'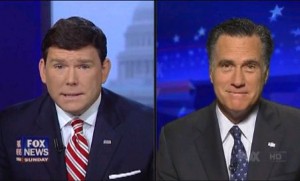 Mitt Romney appeared on Fox News Sunday this morning, and he was put on the defense when Bret Baier pointed out to him that looking at the number of votes each candidate has gotten compared to how much money they've spent, Romney has spent substantially more money per vote than his rivals. Romney defended the amount of money he's spent in the campaign, arguing that the Republicans need a nominee with enough finances to take on the president.
RELATED: Romney Responds To Megyn Kelly's Interrogations: 'Megyn, Guess What. I Made A Lot Of Money.'
Baier cited a statistic from the Center for Responsive Politics that found Romney has spent $15.83 per vote, while Newt Gingrich has spent $7.76 and Rick Santorum has only spent $2.28. And factoring in Super PAC money only gives Romney a much stronger lead. Baier brought up Romney's criticism of Santorum being an "economic lightweight," and asked if Santorum is actually somewhat business savvy because "he's getting a lot of votes for his money."
Romney said that when running a campaign, it's important to have a strong financial apparatus backing it. Citing all of his former rivals who eventually dropped out of the race, Romney pointed to the massive amount of money President Obama is projected to spend in the general election, and said a candidate going up against that needs to have enough finances to counter it.
"We have to have a nominee who has the capacity to, and the organization necessary to raise money to be competitive. I intend to be very competitive with President Obama to make sure that we get our message out and that we defeat him. This is not about a shoestring operation, this is about an operation that can be competitive with the president of the United States and beat him."
RELATED: Rollins To Shep Smith: Without SuperPACs, 'Romney Would Have Won' By Now
Watch the video below, courtesy of Fox News:
Have a tip we should know? tips@mediaite.com
Josh Feldman - Senior Editor