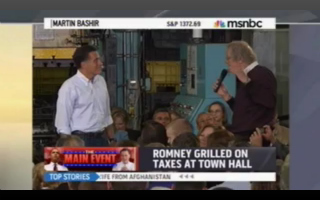 At a town hall event Monday in Cleveland, Ohio, presumptive Republican nominee Mitt Romney faced some tough questions from the audience regarding his taxes and how he would handle the federal government's spending problems. On his MSNBC program, Martin Bashir aired a few of the questions to illustrate what he sees as Romney running into trouble whenever things go off-script.

One seemingly angry attendee asked Romney to explain how during an age of tough foreign competition:
UNIDENTIFIED MAN: You took over $1.5 million in foreign tax credits in ten years. Appreciate your comment.

ROMNEY: Ha ha ha. I'll look at it.
Bashir edited the clip after that short response. But as the crowd booed, Romney did go on to say, "I'm not familiar with that […] I didn't think I paid any foreign income taxes, but I'll be happy to take a look at it."
Romney was also grilled by an adorable-sounding first-grader, who wanted to know what the GOP nominee plans to do about the federal government's growing debt problem:
SEVEN YEAR OLD: Are you going to stop wasting money for my future?

ROMNEY: Here's what I'm going to do: put everything the government does — put it on a list of programs, and I'll say as I look at these programs, "Is it so critical it is worth borrowing money from China to pay for it?" If it doesn't pass that test, I'll get rid of it.
Check out the questions below, via MSNBC:
Have a tip we should know? tips@mediaite.com