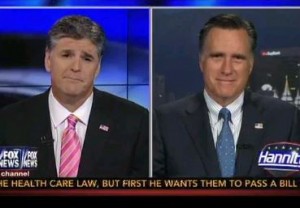 Mitt Romney joined Sean Hannity Tuesday night for a rare interview, one of a select few he's done since he lost the 2012 presidential election. Romney opened up about what he thinks of the government shutdown fight in Washington, and had some choice words for how President Obama's been handling it, as well as admitting to the mistakes he made on the campaign trail in 2012.
Hannity played comments of Romney's from last year, warning about what would happen if Obama was president during a political fight over the debt ceiling and a government shutdown. Hannity said that was very prophetic, and Romney reiterated his point that Obama has consistently been "unable to work across the aisle," saying that it's hard to "get things done in a bipartisan manner… unless all three branches are willing to work with each other."
He dismissed the political battle over who's right and wrong, arguing the real issue here is to "reign in the long-term crisis" on the horizon, referring to government spending levels.
When asked about what he learned from the 2012 presidential election, Romney admitted he made a lot of mistakes, including doing a poor job of reaching out to the Hispanic community in the election.
Hannity asked him directly if Republicans are doing the right thing by holding their ground on Obamacare. Romney replied, "I'm with the Republicans that want to make sure we finally address the spending crisis that's ahead."
Watch the video below, via Fox News:
[photo via screengrab]
— —
Follow Josh Feldman on Twitter: @feldmaniac
Have a tip we should know? tips@mediaite.com
Josh Feldman - Senior Editor