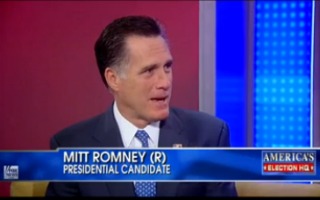 You might recall that, over the weekend, former Alaska Governor Sarah Palin told Fox News Sunday that she is "not convinced" that GOP presidential hopeful Mitt Romney is either conservative enough or the right kind of conservative. And I don't know about you, but where I come from? Them's fighting words.
For reference, here's what Palin told Chris Wallace on Sunday:
I am not convinced — and I don't think the majority of GOP and independent voters are convinced — and that is why you don't see Romney get over that hump. He's still in the 30 percentile mark when it comes to approval and primary wins and caucus wins. He still hasn't risen above that yet because we are not convinced.
She did add, however, that she believes Romney is "evolving" in his conservatism.
RELATED: Sarah Palin: 'I'm Not Convinced' Mitt Romney Is A Conservative
Now, Romney is hitting back against Palin's comments (that is, he joked, if he can even find her these days), highlighting his conservative record and credentials on Wednesday's edition of Fox & Friends:
I'm not quite sure what she'd be referring to. I'm pro-life, pro-traditional marriage, I believe in the Second Amendment. As governor, I balanced the budget every year I was in office, put in place a $2 billion rainy day fund, cut taxes 19 times.
As for whether his politics are "evolving" over time, Romney shared that "I think living life tends to make you more conservative. If you've been in the business world, you can't help but be conservative, because if you don't balance the budget in business, you go out of business." Paraphrasing Winston Churchill, perhaps?
Have a look at Romney's reaction, via Fox News:
h/t HuffPost
Have a tip we should know? tips@mediaite.com