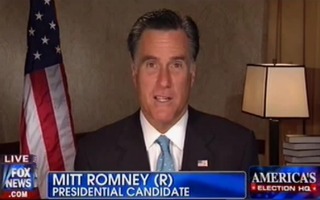 Former Massachusetts governor and likely Republican presidential nominee Mitt Romney appeared on Fox & Friends on Thursday, where he levied significant criticism at President Barack Obama. Romney said that Americans are "worse off" after four years of Obama's presidency, "the record is terrible" and that he "likes to attack fellow Americans." Romney concluded that, if he becomes president, he would "stop the attack on people and start attacking the problems that have been looming over this country."
RELATED: Mitt Romney Refuses To Answer Hannity's Question About President Obama Eating Dogs
Co-host Steve Doocy introduced Romney by noting the higher-than-expected first-time unemployment claims that were announced on Thursday morning and asked the former Massachusetts governor what his jobs creation plan was.
"Well, it's pretty straight forward," Romney began. "You want to make America the most attractive place in the world for entrepreneurs, for innovators and for job creators. What the president has done instead has made it harder and harder for a small business to grow or for a big business to hire more people."
"So what you try and do is get tax rates that are competitive with other nations for corporations and particularly for small corporations," Romney continued. "You also make regulators see their job as encouraging business rather than trying to crush them. You have banking regulations, unlike Dodd-Frank, that are easy to follow – that allow small banks to make loans to small, startup businesses. You take advantage of our energy resources here in this country by drilling for oil, using our natural gas, developing our coal resources. You open up new markets for American goods – I know, some organized labor bosses don't want that to happen and that's why the President has dragged his feet on that, but you've got to open up markets so we can sell products around the world."
Romney went on to criticize President Obama in more detail. "The President unfortunately has taken every single path that has lead towards a restriction in job growth, has made it harder for new businesses to start up. As a matter of fact, the number of new business startups per year has dropped by 100,000 per year. This is just unacceptable and it's one of the reasons why it has been so hard for this economy to recover."
Doocy teed up a clip of President Obama speaking to a group of voters in Ohio on Wednesday, and said that the President sounded "a little like a Republican" when he praised the free market and said that government has its limitations before ultimately praising the collective government.
"I've never believed that government can or should try to solve every problem we've got," said Obama on Wednesday in Elyria, Ohio. "I believe that the free market is the greatest force for economic progress in human history. I agree that everybody has personal responsibility for their own lives. Everybody's got to work hard, nothing's handed to us. But I also agree with our first Republican president, a guy named Abraham Lincoln, who said that 'through government, we should be able to do together what we can't do on our own.'"
Doocy said that Obama was clearly making a play of independent voters because, in a recent Gallup daily tracking poll, Romney was leading among independents. "How are you going to outdo him in that department," Doocy asked.
"By showing a record as opposed to rhetoric," said Romney. "We've seen for three and a half years the policies of Barack Obama play out." Romney went on to criticize the president on a number of specific fronts including low home values, falling income levels and persistently high joblessness. "The president's record is not one we would like to see for another four years," said Romney. "I think the American people realize we're not better off four years after Barack Obama came into office – we're worse off. And despite the flowery rhetoric, the record is terrible."
Doocy asked Romney to respond to Obama saying that he, unlike Romney, was not "born with a silver spoon in his mouth."
"The President is really taking aim at anybody he can find these days," said Romney. "In fact, in my case, I'm certainly not going to apologize for my dad and his success in life." Romney said that the president "likes to attack fellow Americans" and that he would not stoop to that. "If I become president, I will stop the attack on fellow Americans," said Romney. "I'll stop the attack on people and start attacking the problems that have been looming over this country."
Watch Romney take on Obama below via Fox News Channel:
Have a tip we should know? tips@mediaite.com