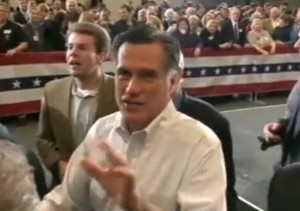 The political media has been quick to assess the damage that Rush Limbaugh's "slut-gate" has done to the Republican Party, particularly given their presidential candidates' bewildering failure to denounce the conservative radio giant's attacks on Sandra Fluke, and all women. But they have so far failed to highlight the fact that one of those candidates, Mitt Romney, actually profits from Limbaugh's inflammatory rhetoric, and probably owes voters a better answer than "That's not the language I would have used."
The Young Turks' Cenk Uygur took a shot at remedying that on Monday night. Toward the end of a segment in which he reissued his challenge for Rush Limbaugh to release his ratings, Cenk threw up a little Rush Limbaugh business flow chart, which showed that Limbaugh's syndicator is a subsidiary of Clear Channel Communications, which is owned by Bain Capital, from whom Mitt Romney is still cashing checks. While the other Republican candidates can innocently (and foolishly) deflect questions about Limbaugh's attacks, the media have an ironclad case to demand a better answer from Romney than this:
Some commentators (MSNBC's Rachel Maddow and CNN contributor LZ Granderson, for example) have observed that all of the Republican candidates, but especially Mitt Romney, have squandered a priceless political gift by failing to denounce Limbaugh. Calling Limbaugh out for his despicable attack would have been a cheap and easy way to repair some of the damage done by the Party's recent fumbling of women's issues, and would not even have required them to reverse position on any policy matters. How hard is it to say, "No matter your political beliefs, it is absolutely reprehensible to attack women in this fashion. Rush Limbaugh should apologize."
Easy. Big win. Most people, even those who believe in a "conscience exemption," can agree that the 99% of women who use some form of birth control aren't sluts, and would appreciate a presidential candidate for saying so.
Instead, Mitt Romney, Rick Santorum, and Newt Gingrich deflected the question, which has led to accusations of cowardice. In Romney's case, though, his financial relationship with Bain gives the Obama campaign a way to single Romney out for more than just cowardice; for slut profiteering. If Romney is the nominee (which is looking more and more likely), get ready to see lots of Limbaugh in some Priorities USA Action ads.
Here's the clip, from Current TV's The Young Turks:
Have a tip we should know? tips@mediaite.com