Mitt Romney: It's Possible I'll Take My Campaign All The Way To The Convention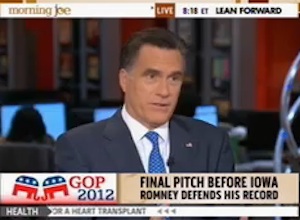 Republican hopeful Mitt Romney appeared on Tuesday's Morning Joe and hypothesized that he had all the resources in a contested election to take the nomination fight all the way to the convention. Joe Scarborough asked the former Massachusetts governor how long he would trudge on. "I don't think it is likely, but it's possible that this goes a long way. We have built enough resources and raised enough money to have a campaign that will go to the very end."
RELATED: Chris Christie Defends Mitt Romney's Lack Of Stage Presence On Morning Joe
Earlier, Scarborough asked Romney if we thought he was going to win the Iowa caucuses.
"I think that's hard to predict," Romney hedged. "Of course — everyone wants to win Iowa. They want to win every state."
"You think you can?" Scarborough followed up.
"All things are possible and I hope to do well," Romney explained. "But when we got into this, we thought Iowa would be a stretch and New Hampshire, we hope to do well."
Scarborough asked if he had to win New Hampshire to go on.
"I don't think today you have to win anything," Romney replied. "I think the only thing you have to win is 1,150 delegates. And we've seen some people have gone down and come back. If one of the people on the stage doesn't win the first two, I wouldn't write them off. One of those people could come surging — we've seen people surge from nothing to high numbers very quickly."
Watch Romney explain his nomination strategy with Scarborough below via MSNBC:

(h/t Jeff Poor at The Daily Caller)
Have a tip we should know? tips@mediaite.com