Mitt Romney on CBS: 'The Real Problem the President Has' Isn't a Website, 'It's Dishonesty'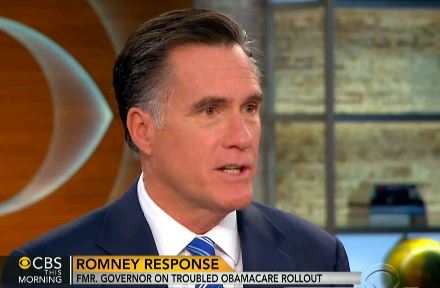 "What starts twisted stays twisted" Mitt Romney said on CBS This Morning on Friday. When asked by CBS host Charlie Rose about the problems associated with the implementation of the Affordable Care Act, Romney said that the website was not the president's problem. "It's dishonesty," he said.

"The real problem that the president has is a broken promise," Romney told Rose. "That's, of course, what's really striking at the heart of his term."
"When the systems are working, people will still lose, and already have, millions of people losing their insurance they were promised they would not," he continued.
"And you think the president lied to the American people on purpose for a political gain?" Rose asked.
RELATED: Concha: POTUS Blames the Media for Not Touting Obamacare Positives
"I think the president understood – it's now quite well documented — that his administration, he understood, that a lot of people would lose their insurance," Romney replied. "That was in the nature of the entire product that they put forward. They knew that and said 'Well, you can keep your insurance. Period.'"
"It's not going to be able to be fixed until we fundamentally reshape Obamacare," he continued. "Either repeal it, or reshape it, or reform it."
Romney added that the Massachusetts model of universal health care rolled out slowly intentionally in order to iron out problems associated with that programs debut as they arose.
Norah O'Donnell turned to the endemic problems associated with the Republican Party. "How does the party need to change?" she asked.
Romney said that the GOP has issues, but his campaign had one fatal flaw. "The place that my campaign, and I, fell short was probably being able to speak openly and effectively to minority populations," he confessed.
"So, do you now favor an immigration proposal?" O'Donnell asked.
"I am absolutely convinced that the Republican Party must deal with immigration," Romney asserted.
Watch the clip below via CBS:

[Photo via screen grab ]
— —
> >Follow Noah Rothman (@NoahCRothman) on Twitter
Have a tip we should know? [email protected]