Mitt Romney On CNBC: 'I'm Not Going To Say Outrageous Things About The President'
Mitt Romney: 'I'm Not Going To Say Outrageous Things About The President'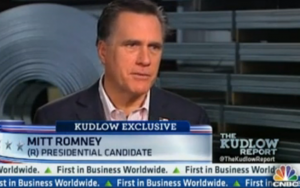 CNBC's Larry Kudlow sat down for a one-on-one interview with Mitt Romney to discuss some of his views on major campaign issues as well as campaigning itself. When Kudlow brought up Romney's "I'm not going to light my hair on fire" comment, the GOP frontrunner stated that saying sensationalist things about the president may make headlines, but that's not how he rolls.
Kudlow asked, "But you say, 'I'm not going to light my hair on fire.' Was that your way of saying that the economic issues have to be preeminent relative to the social issues? Was that your message?"
Romney's response:
Well, my message is I'm not going to say outrageous things about the president or about my opponents. It gets headlines and a lot of excitement, and it gets you, by the way, a number of days in the polls to get a nice little bump. But I'm going to talk about the real issues Americans face and talk with respect about people who have differing views. I'm not going to attack them personally. I mean, I know that's fun, but it's just not productive.
Dismissing personal attacks, Romney said he wants the country to come together and, despite their differences, he sees that both Democrats and Republicans love this country. "I want to lead the country," he said. "I don't want to castigate half of Americans."
Duly noted. Romney has a good message here, but November's a long way away, so we'll have to see if he stays away from the "outrageous" statements.
Have a look, via CNBC:

(H/T RealClearPolitics)
Have a tip we should know? tips@mediaite.com