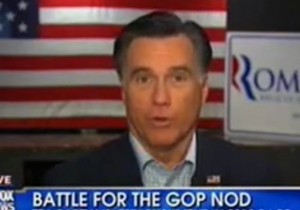 On Monday morning's Fox and Friends, former Massachusetts Governor Mitt Romney let out another one of those "I'm running for office, for Pete's sake!" bursts of honesty which, like a burlesque revue at a leper colony, are revealing, but not in a good way. Asked if his father's Mexican birthplace is helping him with Florida's Hispanic community, Romney replied "You know, I wish I could claim that I'm Hispanic…"
RELATED: Newt Gingrich And Mitt Romney Slug It Out In Heated Immigration Argument
Host Steve Doocy highlighted the fact that Gov. Romney hasn't exactly bragged about his Mexican roots before. "The other night when I saw you at one of the debates in Florida," Doocy said, "you mentioned for the first time in my memory, where you were talking about that anti-immigrant allegation by Newt Gingrich. You were talking about how your father was born in Mexico. It's the first time I'd heard you say that. Is that helping you with the Latino community in Florida?"
Romney replied "You know, I wish I could claim that I'm Hispanic…"
That's a bit of a weird thing to say, but let's hear him out. Does he admire the rich cultural heritage, the strong current of faith, the diverse culinary tradition? Romney continued "…and it would help me with the Latino community here in Florida and around the country, but my dad was born of American parents living in Mexico."
Oh, right, he didn't say he wished he was Hispanic, just that he wishes he could claim it.
RELATED: Mitt Romney And Rick Perry Get Into Illegal Immigration Slapfight
Romney went on to say that his father "was Anglo at the time and yet, I'm very proud of the fact that he came to this country at a critical time, was helped to get on his feet by folks in this country, and he and his dad went around America, started a construction business, ultimately my dad went off and ran a car company. It's an amazing land, of course, people coming from all over the world seeking opportunity."
The sentiment alone is such a naked pander that even an eloquent unspooling of it would have done little to mask it, but when you're pandering to a group, you don't just come out and say you're doing that. What if Newt Gingrich said "I wish I could claim to be a woman, because I am getting killed in the gyno-American vote!"
RELATED: Brain Bleach Alert: Viral Attack Video Shows Newt Gingrich As 'Kim Kardashian Of The GOP'
Gov. Romney has a habit of this kind of Murphy's Law-guided honesty, from his explanation that he fired undocumented landscapers because "I'm running for office, for Pete's sake!" to his revealingly casual $10,000 proposition to Rick Perry at another debate, to his recent interview with conservative radio host Laura Ingraham. In that Obama Campaign ad-ready chat, Romney told Ingraham that "Of course (the economy is) getting better," and when asked if "Obama is making the economy better, but vote for me" is a tough argument, Romney responded "Do you have a better one, Laura? It just happens to be the truth."
While Gov. Romney's honesty might not be all that refreshing to Republican primary voters, it's like a York Peppermint Patty to the President's reelection team.
Here's the video, from Fox News:
Have a tip we should know? tips@mediaite.com