Mitt Romney Reaches Out To Women Voters, Says Obama 'Consumed With Trying To Find Someone To Blame'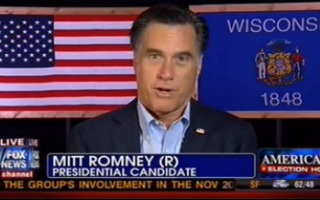 On Tuesday, Mitt Romney appeared on Fox & Friends with Gretchen Carlson where he weighed in on the economy, President Obama and his campaign's ability to reach out to reluctant women voters.
"What do you make of the fact that the President is apparently going to upstage the contests that are going on in the Republican side today and give another economic speech and probably going to talk about taxpayers paying their fair share?" Carlson asked Romney.
"The president is consumed with trying to find someone to blame for an extraordinarily failed presidency," said Romney. "This is an economy that has really hurt a lot of people – single moms for instance. 30 percent of single moms are living at poverty now under this president—record number of people on food stamps."
RELATED: Obama Blamed His Popularity Woes On Fox News, According To New Book
"This has been the slowest recovery we've ever had in American history – that includes the Great Depression," said Romney. "The truth is that the buck stops at his [President Obama's] desk and it's about time he realizes it – and I think as the people of America do, they'll decide it's time for someone new."
Carlson asked Romney about the long Republican primary and played a clip of former Pennsylvania Sen. Rick Santorum claiming that the race does nothing to hurt the GOP just as a similar long primary fight between then-Sen. Barack Obama and Sen. Hillary Clinton did not harm the Democratic party in 2008. "The longer it goes the better it is for the party," said Santorum.
"You have to remember it was Ross Perot that allowed Bill Clinton to win," said Romney, referring to the 1992 presidential campaign. "The right thing for us is to get a nominee as soon as we can and begin to focus on Barack Obama."
Carlson asked Romney directly about his lack of appeal to women voters, as noted in a recent USA Today/Gallup poll that showed the president leading Romney among registered voters by 51 to 42 percent. In that poll, President Obama leads Romney among women by a nearly 2-1 margin.
"What will you do to try to attract the female vote?" asked Carlson.
"Well, you know, I've had the fun of being out with my wife the last few days on the campaign trail, and she points out that as she talks to women they tell her that their number one concern is the economy."
Romney said that he believes that economic concerns will move women to his camp and that, under President Obama, "It's been a war on enterprise, a war on jobs and it's time for that to end if we're going to women back to having good jobs and rising incomes."
Romney was also asked about President Obama's comments in the Rose Garden on Monday, requesting that the Supreme Court exercise restraint while determining the fate of his signature health care reform law.
"Look, the whole idea of a court that is not an activist court is one that follows the constitution. An activist court is one that departs from the constitution and begins legislating from the bench – that is what we've been complaining about for years was some of the court's decisions," said Romney. He said he believes the court will proclaim the Affordable Care Act to have overstepped the bounds of constitutionality and will be overturned. "that will not be an activist court," said Romney. "That will be a court following the constitution which is precisely what it was designed to do."
Watch the interview below via Fox News Channel:
Have a tip we should know? tips@mediaite.com