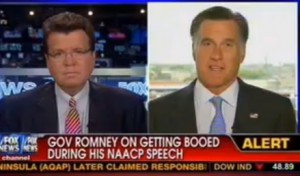 Mitt Romney's speech to the annual NAACP Convention is drawing a lot of media attention over several episodes of booing, despite an overall decent reception for the Republican presidential candidate. On Wednesday afternoon's Your World with Neil Cavuto, host Neil Cavuto played an interview taped "moments later," in which Romney reacted to the boos by saying "Well, I think we expected that, but I'm going to give the same message to the NAACP that I give across the country, that Obamacare is killing jobs."
Several people have speculated that Romney went into the speech wanting to get booed, as a badge of honor for his opposition to the President's health care law.
"And if jobs is the priority," Gov. Romney continued, "we are going to have to replace Obamacare with something that actually holds down health care costs, as opposed to causing more spending for the government, and more spending for american families."
Not insuring sick people certainly fits that bill, but I digress. Cavuto asked Romney if, given the President's overwhelming share of the black vote in 2008, he thinks he can peel away any black voters from President Obama.
"I do," Romney replied. "I spoke with a number of African-American leaders after the event and they said, you know, a lot of folks do not want to say they will not vote for President Obama, but they are disappointed in his lack of policies to improve the schools, disappointed in urban policy, disappointed in the economy."
Romney added, "I expect to get the African-American votes, and at the end of my speech having a standing ovation was generous and hospitable, and I believe we disagree on some issues like Obamacare, but on a lot of issues people see eye to eye, they want someone getting the economy going."
Romney is taking some derision online for suggesting that he's got the "secret support" of black leaders, and while he is unlikely to peel off much, if any, black support from President Obama, Romney is correct about some of the issues, like education and unemployment, over which there is a schism in the black community, as well as gay marriage. Unfortunately, even those disappointed with President Obama would need much more convincing than Romney was able to deliver today.
The most well-received policy portion of his speech was the section on education, but his plan is long on platitudes, and woefully short on specifics. Unless his voucher idea guarantees full tuition funding, and guaranteed acceptance to participating charter and private schools, all he'll be doing is decimating public education in order to subsidize private school for those who can afford it, and those who can almost afford it.
Here's the clip, from Fox News:
Follow Tommy Christopher (@TommyXtopher) on Twitter.
Have a tip we should know? tips@mediaite.com