Mitt Romney Responds To Gingrich: 'If I'm A Weak Frontrunner, What Does That Make' Him?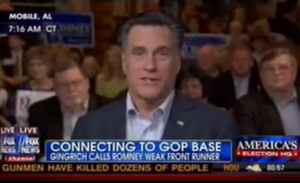 Yesterday, Newt Gingrich said on Fox News Sunday that Mitt Romney is the weakest frontrunner the Republican party has had in almost a century. Romney appeared on Fox & Friends earlier today to talk about the race (and celebrate his birthday). Most of the interview consisted of Romney responding to charges made by his rivals, in particular Gingrich's statement. Romney reacted by asking, "if I'm a weak frontrunner, what does that make Newt Gingrich?"
RELATED: Newt Gingrich To Chris Wallace: Mitt Romney Is The Weakest Frontrunner We've Had Since 1920
Romney told Gretchen Carlson that he's hoping for a great birthday present tomorrow when the primary results are announced in Mississippi and Alabama, while expressing confidence that no matter what happens in the race, he will become the nominee at some point. Carlson read a statement from Rick Santorum saying that despite Romney having the momentum and the money behind him, he still hasn't been able to close the deal with Republican voters. Romney denied this was the case, touting the vast gap between him and Santorum in delegates and support among said voters.
Carlson then played the clip of Gingrich calling Romney a very weak frontrunner, and asked Romney to respond to that charge. Romney laughed and said that his rivals have been saying what they wish were true as opposed to the reality on the ground.
"And, you know, if I'm a weak frontrunner, what does that make Newt Gingrich? I mean, 'cause I'm well ahead of him. So I'm happy to be solidly ahead, and you know, he's a good guy. I don't begrudge them the fact that they're out there campaigning, working hard, getting some support, but ultimately I believe I'm going to be the nominee."
He framed himself a campaign outsider in stark contrast with his rivals, both of whom have served many years inside Washington. Carlson acknowledged that mathematically speaking, Santorum and Gingrich certainly don't have much of a chance, but what if they pool their resources and their delegates? Does Romney think they could pose a more direct challenge if one of them dropped out and endorsed the other?
RELATED: Lindsey Graham On GOP Race: 'Mathematically This Thing Is About Over But Emotionally It's Not'
Despite his confidence, Romney said that "anything is possible" in the race right now. But he suggested that if either Gingrich or Santorum dropped out, he might end up getting a decent percentage of their supporters, and they all wouldn't just immediately flock to the remaining Anti-Romney. He also pointed out that some people who know both Gingrich and Santorum best have backed him, so he wondered what that says about his rivals.
Watch the full interview below, courtesy of Fox News:
Have a tip we should know? tips@mediaite.com
Josh Feldman - Senior Editor