Mitt Romney: 'Ron Paul Has Run A Very Effective Campaign…He's Doing A Nice Job Representing His Views'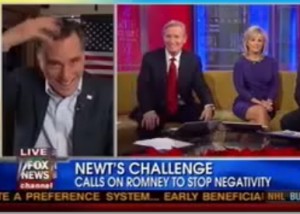 Mitt Romney, on a feed from his brand-new bus in New Hampshire, paid a visit to Fox and Friends Wednesday morning — just minutes after Michele Bachmann appeared from Iowa. He immediately showed a little more personality than usual, tousling his hair after he was asked about it being a wig (as he mentioned in his "Top Ten List" appearance on David Letterman Monday night).
Things quickly moved to more serious topics, however, when Romney was asked if he would accept a challenge set forth by Newt Gingrich to curb attack ads from his Super PAC against the other candidates.
"I'm sure I can go out and say, 'Please don't do anything negative,'" Romney said, noting that there are coordination rules prohibiting him from directly telling the Super PAC what to do. "But this is politics, and if you can't stand the heat in this little kitchen, wait until the Obama Hell's Kitchen turns up the heat." Romney later added that there is nothing in any of the ads that President Obama wouldn't put out during a general election with his "billion dollar" war chest. "It's probably a good time for people to see these things to make up their mind."
Romney was asked about Ron Paul's rise in Iowa, and he had some interestingly nice things to say about the Texas Rep.
"I think Ron Paul has run a very effective campaign. He's been hard-working, he's represented himself well in the debates. I don't believe he'll become our nominee — I believe his views are well out of the mainstream of Republican thought — but he may be able to get some folks to support him in an early contest or two and maybe down the road as well. So you have to tip your hat and say he's doing a nice job representing his views."
RELATED: South Carolina Governor Nikki Haley Endorses Mitt Romney On Fox and Friends
Tuesday, on Morning Joe, New Jersey Governor Chris Christie said that he's told Romney, in private, to be a little edgier and bolder. While saying that he's been tough when he has to be tough, Romney also added that he's not in the business of saying crazy things just to get attention.
"I'm not willing to be a bomb-thrower or go over the top and say outrageous or outlandish things or incendiary things simply for the purpose of getting people excited," he said. And then, possibly forgetting that he was on a talk show, Romney added. "I'm hoping to become President of the United States, not a talk show host."
"There are plenty of those already," Steve Doocy noted.
"Not too many," Brian Kilmeade quickly added.
Watch Romney's interview on F&F below, courtesy of Fox News:
Have a tip we should know? tips@mediaite.com