Mitt Romney Says He's 'Working Harder Than Anyone I Know' To Make Sure Ron Paul Doesn't Get Nomination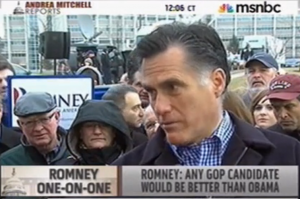 MSNBC's Andrea Mitchell had GOP hopeful Mitt Romney on her show Friday, and he dropped a bomb, stating that he's been working "harder than anyone I know" to make sure Ron Paul isn't nominated.
First, however, Mitchell asked him — after a set-up that included mentions of Romney's ties to SuperPACs run by former colleagues and friends, including anonymous donations of a million dollars — if he wanted to apologize for running the negative ads — aimed mostly at Newt Gingrich — that have been running in Iowa.
"Do you have an apology to make to the voters in Iowa and around the country for the kind of negative advertising that's been run?"
Romney twice asserted that Gingrich's numbers have gone down more in New Hampshire — where, Romney noted, there are no negative ads being run — than they have in Iowa. But, according to Real Clear Politics poll averages, measured from Gingrich's peak on Dec. 10 in both states to today, this isn't true.
Iowa
Dec. 10 – 31.0%
Dec. 30 – 14.0%
Net change: -17%
New Hampshire
Dec. 10 – 24.3%
Dec. 30 – 17.0%
Net change: -7.3%
Mitchell again asked if he wanted to run a negative campaign, and Romney didn't say no, simply stating that his future campaigning, "would describe why I should be President, and how I'm uniquely qualified to run the country." He did add that anyone running for President would do a better job than President Obama. Which then led Mitchell to ask about Ron Paul.
"I totally disagree with Ron Paul's position on Iran and a whole series of other issues. I don't believe he will become our nominee. I'm working harder than anyone I know to make sure he's not our nominee."
Romney added, however, that if Paul was the Republican nominee, he would support him.
Watch a clip of the interview below, courtesy of MSNBC:

(hat tip: NewsBusters.org)
Have a tip we should know? tips@mediaite.com