Mitt Romney Talks To GMA About Rick Santorum, 'Angry, Disappointed' Newt Gingrich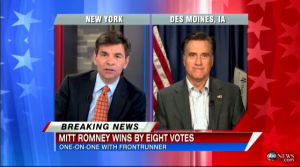 Former Massachusetts governor (oh, and the winner last night in Iowa) Mitt Romney told Good Morning America's George Stephanopoulos just how his experience differs from that of "runner up" candidate Rick Santorum, noting that there is "nothing wrong" with the fact that Santorum has spent "most of life in the governmental sector," but that "it's very different, I think, if you want to get the economy going again."
Romney beat Santorum in Iowa by only eight votes, even though, as Stephanopoulos notes, he "outspent the former Pennsylvania senator by a 50 to 1 margin on television ads." Romney says this is because, unlike his rival, he is focusing his efforts on a national level:
Rick has focused his effort, and I think in a wise way, entirely on Iowa. I've been campaigning in other states, putting together the kind organization which I believe will get me the 1150 delegates I need. So let me tell you I'm going to take every win I can possibly get and get every delegate I can possibly get.
Romney also responded, once again, to Newt Gingrich's comment that he is a "liar" and a "Massachusetts moderate."
RELATED: Mitt Romney Responds To Newt Gingrich Calling Him A Liar: 'I Don't Know Why He's So Angry'
"Well, I'm sure he's disappointed in the results last night," Romney said, adding that he's sure Gingrich will continue to mount a "spirited campaign."
"I think he's just really angry and disappointed," he reiterated.
Have a look at Romney's interview, courtesy of ABC:
Have a tip we should know? tips@mediaite.com