Mitt Romney Tells Fox & Friends Obama Camp's 'Political Payoffs' To Businesses 'Stink To High Heaven'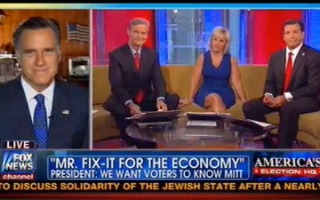 Republican presidential candidate Mitt Romney appeared on Fox & Friends Monday morning, where he was asked to respond to former chief of staff Rahm Emanuel's call that he "stop whining" about Bain.
"Well, I think when people accuse you of a crime you have a reason to go after them pretty hard, and I'm going to continue going after him," Romney responded. "I am proud of the record I had in my business career, helping to turn around the Olympics and as governor of the state of Massachusetts. But hat does it say about a President whose record is poor that all he can do in his campaign is attack me?"
RELATED: George Will On This Week: Romney Is 'Losing' Argument On Bain Capital
Later, responding to President Obama's comment that Romney has positioned himself as a "Mr. Fix-It" based on his business experience, so, therefore, his business past is fair game, Romney said he feels confident about his record, but that the same can't be said for the President.
Romney also explained his issue with what he and his campaign is describing as Obama's "political payoff:"
When billions upon billions are given by the Obama administration to the businesses of campaign contributors, that's a real problem, particularly at a time when the middle class is suffering in this country. I don't know whether you watched over the weekend, the report that was in the New York Times about families really struggling and particularly those that are single parents that are just having a hard time making end's meet. This is a tough time for the people of America. But if you're a campaign contractor to Barack Obama, your business may stand to get millions or hundreds of million in cash from the government. I think it's wrong stinks to high heaven and I think the administration has to explain how it is they would consider giving money to campaign contributors' businesses.
When asked about criticism that he should do more to go on the offensive rather than offering reaction, Romney responded that "the best offense is to look at the President's record," adding that the President's only plan is "attacks on me." And while that "may work in Chicago, it's not going to work across America."
As for Bill Kristol's advice yesterday that Romney release a decade or so worth of tax returns, Romney noted that this type of thing hadn't been an issue for, say, John McCain or John Kerry('s wife), and the Obama campaign won't be satisfied no matter how many years' worth of tax returns he releases.
Have a look, via Fox News:
Have a tip we should know? tips@mediaite.com