Mitt Romney: 'There Was No Discussion Of Terrorism' During 2008 Presidential Debates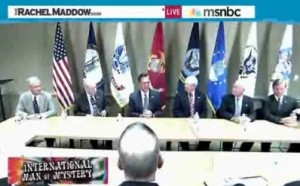 Following his "major foreign policy" address on Monday, Republican presidential candidate Mitt Romney participated in a roundtable with retired generals, at which he made the curious declaration that "Back in 2008, during the presidential debates, there was no discussion of terrorism."
Monday night, The Rachel Maddow Show host Rachel Maddow dutifully followed Romney's statement with clip after clip of President Obama and Sen. John McCain discussing terrorism at the 2008 presidential debate, but using the mad skillz I've acquired watching Elementary, I've been able to track down some of the things Romney said about terrorism in 2008, things for which the news media have yet to hold him accountable.
Rachel also went through a host of Romney's other flip-flops and lies from that speech, but therein lies the biggest problem with making any criticism of Romney stick: he is such a hot mess of lies, contradictions, and utter nonsense that even a single speech offers too much fodder for the average voter to comprehend. The signal becomes the noise. With that in mind, I'll stick to just the one thing, from the beginning of this clip:
One of those mentions of terrorism from the McCain/Obama debates focused on then-Sen. Obama's promise to take unilateral action to kill Osama bin Laden if the government of Pakistan would not:
It's possible that this discussion of terrorism slipped Romney's mind, but not likely. Romney was among the many Obama opponents who criticized the then-Senator for that promise, but while most of those critics focused narrowly on Obama's decision to say his strategy out loud (a reasonable criticism made most pointedly by then-Sen. Joe Biden), Romney went a step further, saying that he opposed the unilateral action itself:
"I do not concur in the words of Barack Obama in a plan to enter an ally of ours… I don't think those kinds of comments help in this effort to draw more friends to our effort," Romney told reporters on the campaign trail.

…Romney, the former Massachusetts governor who is one of the Republican front-runners, said U.S. troops "shouldn't be sent all over the world." He called Obama's comments "ill-timed" and "ill-considered."

"There is a war being waged by terrorists of different types and nature across the world," Romney said. "We want, as a civilized world, to participate with other nations in this civilized effort to help those nations reject the extreme with them."
Romney was also criticized for saying it was not worth "moving Heaven and Earth" to get Osama bin Laden," a quote which, despite his refusal to even act without permission from Pakistan, he later insisted that "of course we get Osama bin Laden, and track him wherever he has to go."
Here's Romney discussing terrorism at a presidential debate during the 2008 campaign:
Since President Obama made good on his promise, not a single journalist has directly challenged Romney on his opposition to unilateral action within Pakistan (Attn: Bob Schieffer). To be clear, Romney's position, that we shouldn't be going all Rambo within an ally's borders, is a reasonable one, but it's one he should be ade to defend, along with his lie that he would have done exactly what President Obama did.
At another debate, Romney had this to say about how he would deal with state terrorism sponsor Iran, to whom he now promises to do whatever Barack Obama does:
Again, despite his current tough talk. Romney has yet to be challenged to tell voters whether he knows if he's even allowed to bomb Iran. Paging Bob Schieffer.
Having established that terrorism was a hotly-debated topic during the 2008 presidential debates, there's just one more Romney comment from that campaign that deserves special scrutiny from foreign policy debate moderator Bob Schieffer, perhaps my favorite Mitt Romney terrorism bit of all time. In his 2008 concession speech, Romney made a greater sacrifice, even, than his stint in 1968's Most Dangerous Place In The World: Mitt Romney dropped out of the race in order to prevent Barack Obama from winning the presidency, and "surrender(ing) to terror."
Maybe Bob Schieffer ought to ask him if he would make such a "sacrifice" this year. The guy we have seems much better suited to the task:
Have a tip we should know? tips@mediaite.com