Romney Trashes Gingrich's Debate Performances: 'It's Very Easy To Talk Down To A Moderator'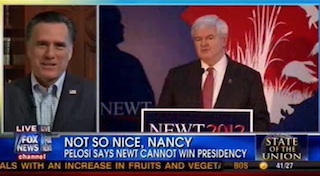 Following his "prebuttal" of the President's State of the Union Address yesterday, Mitt Romney appeared on Fox and Friends this morning to give his "postbuttal" (What? That's just called a "rebuttal"? Oh, I see). However, the conversation soon turned to Romney's highest polling opponent in the GOP nomination race, Newt Gingrich. And, while Romney seemed more interested in talking about President Obama (apparently our president is "trying to save his job by tearing down Americans"), he did let loose with a few choice zingers about his GOP rival.
RELATED: Most Of The Five Side With Brian Williams Over Newt Gingrich, Think Silencing Audience Is A Good Idea
The Friends got the comments out of him by complimenting his most recent debate performance in comparison to the couple that gave Gingrich such a surge. Romney went off on those debates and perceived notion that Gingrich's boost was caused by his attacks on John King and Juan Williams.
"It's very easy to talk down to a moderator. A moderator asks a question and then has to sit by and take what you send to them. And Speaker Gingrich has been wonderful at attacking the moderators and attacking the media. That's always a favorite response for the home crowd but it's very different to have candidates go against candidates, and that's something I'll be doing against President Obama if I'm the nominee."
Gretchen Carlson then asked Romney what he thought of Nancy Pelosi's claim that she "knows" something that will keep Gingrich from being president.
"I wish I knew what that was," laughed Romney. "I'd tell people what it is right now."
Romney continued by saying that the full records from the ethics investigation on Gingrich in the 90s needed to be released because, if Pelosi knows them, she will assuredly give them to Obama's campaign.
Watch the clip from Fox News below:
Have a tip we should know? tips@mediaite.com