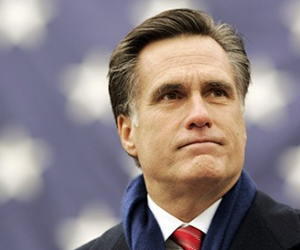 Mitt Romney makes it official today, delivering a campaign announcement in Stratham, New Hampshire at noon. According to an advance copy of the speech obtained by Politico, the Republican will argue that he's a "serious man for serious times"; an effort, analysts believe, designed to separate the former Massachusetts governor from the "sideshow" atmosphere surrounding other current and potential GOP candidates. "When President Obama was elected, we wondered what it would be like to elect a president with no experience, and now we know," Politico's Mike Allen quotes a senior Romney adviser. "Mitt Romney, from a lifetime spent in the private sector, has the skills and the ability to lead an economic turnaround."
In strong words, Romney will label President Obama a failure:
A few years ago, Americans did something that was, actually, very much the sort of thing Americans like to do: We gave someone new a chance to lead; someone we hadn't known for very long, who didn't have much of a record but promised to lead us to a better place. At the time, we didn't know what sort of a President he would make. It was a moment of crisis for our economy, and when Barack Obama came to office, we wished him well and hoped for the best. Now, in the third year of his four-year term, we have more than promises and slogans to go by. Barack Obama has failed America.
To greet the arrival of the Romney campaign, the Democratic National Committee has released a new video, "Romney: Same Candidate, Different Positions … Again."
Watch it here:
Have a tip we should know? tips@mediaite.com