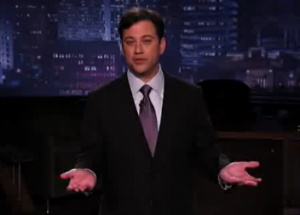 An orthodox Jewish rabbi claims his image was used without consent by Jimmy Kimmel in a late night joke about LeBron James last summer–and now the rabbi, who goes by the nickname the "Flying Rabbi," is suing.
According to The Hollywood Reporter's THR blog, Rabbi Dovid Sondik claims Kimmel and ABC made him "look foolish" and portrayed him as a "laughingstock."
Well, okay. But here's the thing. It's called the YouTube. And Rabbi Sondik has a whole lot of posts up on YouTube and, let's just say, you could make an argument that things veered into "foolish" long before Jimmy Kimmel came along.
You be the judge (Clever, right? It's a legal story? Get it?) Here's Kimmel's bit, which is pretty funny. Watch it, from ABC:
If you really want the whole story on the lawsuit, which seems to suggest that Kimmel got his rabbis confused, instead of simply finding a funny jumping rabbi clip available easily on the internet and then creating a funny bit with it. But here's the legalese, from THR:
According to a complaint filed in New York Supreme Court, Kimmel in August was trying to make a joke about reports that LeBron James had met with Rabbi Yishayahu Yosef Pinto for business advice. Kimmel claimed that he himself had met with Rabbi Pinto for advice and showed the audience a video of the exchange.

Here's the video clip from Jimmy Kimmel Live. The rabbi shown speaking to Kimmel appears to be Rabbi Sondik, not Rabbi Pinto.
Have a tip we should know? tips@mediaite.com