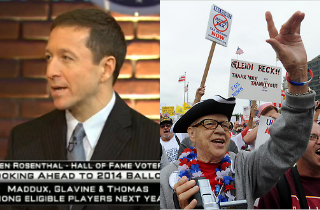 One of the least likely places you'd expect to hear a Tea Party analogy is while listening to baseball reporting.
MLB Network sportswriter Ken Rosenthal fulfilled that void yesterday while discussing the Major League Baseball Hall of Fame's failure to nominate a single player for this year's induction.
While lamenting how perpetually-snubbed candidate pitcher Jack Morris seems to get a bad rap from sabermetric analysts, Rosenthal felt it the opportune moment to invoke the Tea Party movement as an analogy for the divisiveness of the baseball insiders who prevent the pitchers' nomination:
I will say this about Morris. I don't vote for him, but the level of discourse against him by certain segments of the sabermetric community right now is over the top. It's almost a crusade and it's ridiculous. And one thing that has bothered me at times, some of us, is the polarized view of the world now that has come to pass. And it's as if the Tea Party has taken over one part of baseball discussion. And that's not right.
People on both the left and the right have attacked Rosenthal for the Tea Party slam. "We don't really need to explain why such an analogy is so stupid, do we?" wrote Gawker's sports-focused sister site Deadspin. And on the right, Rush Limbaugh attacked Rosenthal for "blaming" this year's anticlimactic Hall of Fame vote on the Tea Party itself.
Watch below:
— —
>> Follow Andrew Kirell (@AndrewKirell) on Twitter
Have a tip we should know? tips@mediaite.com