MSNBC Panel Blames Society In Effort To Not 'Smack [Obama] Around' For All White, Male Inner Circle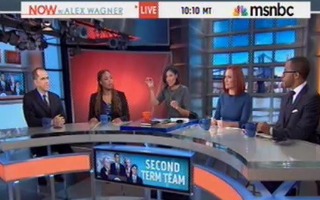 President Barack Obama has run afoul of his progressive supporters after it became clear this week that, in his second term, Obama's inner circle of advisors will be almost entirely composed of white men. On Wednesday, Democrats on MSNBC's Now lashed out at the president for surrounding himself with faces that do not "look like America." … Kidding! Of course not. In fact, when MSNBC's panel of Democrats tackled the president's diversity problem, they displayed remarkable intellectual dexterity by finding any number of things to blame for that condition in the White House other than Obama himself.

"It must be said, [President Obama] has a fairly decent record given the fact that there are eight women in his Cabinet at present and three of his Cabinet members are minorities," host Alex Wagner said, after reflecting on this image of Obama surrounded by his second term advisors: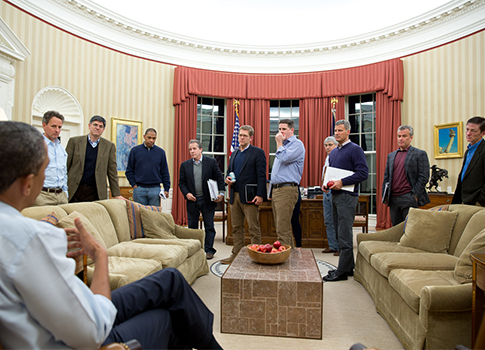 Sure, but as a lame duck, the president clearly finds diversity to be a decidedly secondary concern.
When the panel of MSNBC guests tackled the present state of the Obama team, what followed was an embarrassing display of excuse-making for the president. Obama's supporters took to blaming everything — from the day that picture was taken to a culture in the United States that represses women and minorities and reduces the pool of qualified non-white, non-male candidates to choose from.
Washington Post columnist Jonathan Capehart said that there is still time for Obama to add some minorities and women to his inner circle. "I'm not going to smack him around," Capehart offered, mercifully.
Former spokesperson for the Obama campaign, Jen Psaki, added that President Obama is too high minded to think in the parochial terms of race and gender. "There is a pipeline problem," Psaki added, blaming society at large for failing to provide the White House with a stable of qualified candidates who could surround President Obama and provide useful guidance.
Psaki, a former spokesperson for the Obama campaign, has a job to do. It is hard to indict her for mounting such a tepid (and offensive to qualified and accomplished minorities and women in America) defense of the president. Given her statements during the 2012 presidential campaign about Republicans on issues of diversity, one could be forgiven for thinking Psaki would find the president's staffing decisions indefensible.
Recall the fevered Sturm und Drang that characterized the Obama campaign's push to create a meme regarding the fictitious "war on women" which was supposedly being prosecuted by the Republican Party. Mitt Romney just "doesn't seem to get it," when it comes to women's issues, said Psaki in April of last year.
It is harder to exonerate Capehart for his newfound forgiveness towards the president's failure to populate his Cabinet with individuals who "look like America." Indeed, Capehart is particularly sensitive towards what he perceives as racial slights – evidenced best by an August appearance on MSNBC's Morning Joe in which he dismissed Vice President Joe Biden's disgraceful "back in chains" remark by providing a litany of examples where he feels the Republican Party has offended minorities more than Biden ever could.
Curious that Capehart has a long track record of finding exculpatory factors which excuse liberal politicians of racial insensitivity, yet he is nearly encyclopedic about the many racial abuses he believes to have been committed by conservative political actors.
Republicans have a lot to look forward to in Obama's second term, but perhaps the most satisfying will be the exposure – once and for all – of so many of the Democratic Party's institutional inconsistencies when it comes to issues of race.
After the 2012 campaign, the most racially divisive election cycle in decades, the president is well on his way to exposing his campaign rhetoric for just what it was: rhetoric. His supporters in the media, too, are happily and unapologetically exposing themselves to be political operatives – all to willing too lambaste the GOP for racial infractions that, when committed by Democrats, are casually dismissed.
This is just the latest example of how hollow and partisan the "pro-diversity" crowd has become. It is not now and never was about equality. It is all about naked political advantage. The GOP has long sought to reveal that truth about this movement, but they have enjoyed little success in that effort. Obama's second term is, however, rapidly exposing that truth better than any Republican ever could.
> >Follow Noah Rothman (@Noah_C_Rothman) on Twitter
Have a tip we should know? tips@mediaite.com