Monday Cable Ratings: CNN's Blitzer Tops Fox's O'Reilly in Demo with Robin Williams Coverage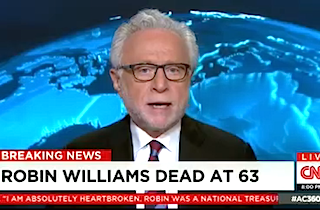 Starting at 7 p.m. ET Monday night, CNN went wall-to-wall with coverage of Robin Williams' tragic death, evidently giving viewers exactly what they wanted.
Not only did Erin Burnett Out Front (with guest host Don Lemon) beat Fox News' On the Record with Greta Van Susteren in the 25-54 demo, but the network's Wolf Blitzer-hosted special coverage at 8 p.m. also beat perennial front-runner Bill O'Reilly in the demo as well. Unlike Blitzer, who stayed on the Williams story non-stop, O'Reilly discussed it briefly at the top of his show before moving onto other news stories.
Fox News regained the demo lead at 9 p.m., but even after they put in Shepard Smith to replace Hannity with special coverage of Williams at 10 p.m., they could not beat CNN Tonight. CNN came close to beating Fox News overall in the primetime demo with an average 568K viewers compared to Fox's 574K. MSNBC trailed far behind with 180K.
Fox's lineup remained in first place when it came to total viewers, averaging 2.394M in primetime. But with 1.425M in primetime, CNN was up nearly 300% from the previous Monday. Again, MSNBC was third with 761K.
Here are the rest of your Monday ratings:
TV NEWS RATINGS: 25-54 DEMOGRAPHIC (L +SD)
6 – 9 am
Fox & Friends

227

New Day

117

Morning Joe

84

Express

127

5 pm
The Five

264

Blitzer

174

Schultz

81

Files

88

6 pm
Baier

302

Blitzer

177

Sharpton

118

Files

98

7 pm
Van Susteren

445

Burnett

504

Matthews

161

Velez-Mitchell

182

8 pm
O'Reilly

688

Blitzer

735

Hayes

169

Grace

166

9 pm
Kelly

580

Blitzer

525

Maddow

202

Dr. Drew

168

10 pm
Smith

441

Tonight

445

O'Donnell

167

Files

95

11 pm
O'Reilly

323

Tonight

363

Hayes

132

Files

105

PRIME TIME
574
568
180
143
Data by Nielsen Media Research. Live and same day (DVR) data.
TV NEWS RATINGS: TOTAL VIEWERS (L +SD)
6 – 9 am
Fox & Friends

916

New Day

340

Morning Joe

344

Express

311

5 pm
The Five

1.987

Blitzer

946

Schultz

501

Files

179

6 pm
Baier

1.842

Blitzer

797

Sharpton

484

Files

215

7 pm
Van Susteren

2.010

Burnett

1.357

Matthews

715

Velez-Mitchell

391

8 pm
O'Reilly

3.292

Blitzer

1.856

Hayes

663

Grace

539

9 pm
Kelly

2.296

Blitzer

1.301

Maddow

845

Dr. Drew

467

10 pm
Smith

1.581

Tonight

1.118

O'Donnell

775

Files

324

11 pm
O'Reilly

1.379

Tonight

869

Hayes

404

Files

346

PRIME TIME
2.394
1.425
761
443
Data by Nielsen Media Research. Live and same day (DVR) data
Have a tip we should know? tips@mediaite.com