Monday Ratings: Bill O'Reilly's Interview With Diane Sawyer Pays Off Handsomely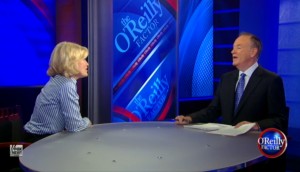 While Diane Sawyer's interview with Gabrielle Giffords was a ratings coup for her on Monday night, Bill O'Reilly found a secondary benefit: his interview with Sawyer attracted 725,000 viewers in the 25-54 year-old demo, the most of any show all night long. In fact, O'Reilly's demo numbers were so large, if you combine all the demo viewers from the HLN slate, they still fall short of O'Reilly's numbers by about 63,000.
Other nuggets from Monday night:
Part of the reason HLN's ratings were dwarfed by O'Reilly's was the terrible performance of Dr. Drew at 9 p.m. He pulled just 41,000 viewers in the demo. Three shows on the HLN slate failed to hit triple-digits on Monday night in the demo.
Two hours after O'Reilly's victory, Greta Van Susteren trotted out her own big-name guest, Gloria Cain, at 10 p.m. The result? 409,000 demo viewers, putting her behind every show but The Five on Fox's slate. To be fair to Van Susteren, this could just speak to the sudden disinterest in Herman Cain, who is quickly fading in the polls.
The non-Fox channels put in a pretty erratic night, with CNN pulling two second-place wins, two third-place wins, and three fourths. MSNBC had five second-place finishes and two thirds. And HLN had three third-place finishes and four fourth-places.
Average time slot finish:
FOX: 1
MSNBC: 2.3
CNN: 3.1
HLN: 3.6
The rest of your Monday night ratings:
TV NEWS RATINGS: 25-54 DEMOGRAPHIC (L +SD)
5 pm
The5

364

Blitzer

165

Matthews

164

Special

59

6 pm
Baier

493

King, USA

111

Sharpton

147

Prime

113

7 pm
Shep

435

Burnett

121

Matthews

191

Issues

140

8 pm
O'Reilly

725

Cooper

157

Schultz

202

Grace

122

9 pm
Hannity

568

Piers

126

Maddow

245

Dr. Drew

41

10 pm
Van Susteren

409

Cooper

206

O'Donnell

173

Joy Behar

78

11 pm
O'Reilly

410

Burnett

102

Schultz

153

Showbiz

109

TOTAL DAY
328
123
126
73
PRIME TIME
574
163
208
78
Data by Nielsen Media Research. Live and same day (DVR) data.
TV NEWS RATINGS: TOTAL VIEWERS (L +SD)
5 pm
The5

1,525

Blitzer

572

Matthews

866

Special

182

6 pm
Baier

2,104

King, USA

552

Sharpton

734

Prime

293

7 pm
Shep

1,969

Burnett

465

Matthews

819

Issues

395

8 pm
O'Reilly

3,185

Cooper

507

Schultz

907

Grace

450

9 pm
Hannity

2,207

Piers

544

Maddow

814

DrDrew

299

10 pm
Greta

1,669

Cooper

565

O'Donnell

766

Behar

326

11 pm
O'Reilly

1,258

Burnett

333

Schultz

406

Showbiz

283

TOTAL DAY
1,253
377
464
222
PRIME TIME
2,366
539
833
352
Data by Nielsen Media Research. Live and same day (DVR) data
Have a tip we should know? tips@mediaite.com