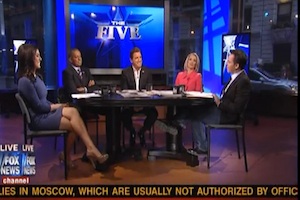 With a shout-out from Entertainment Weekly boosting its place in the public eye, FOX News' The Five produced its highest ratings in the show's history on Monday night, attracting 460,000 viewers in the 25-54 year-old demo. The Five, FOX News' multi-headed replacement for Glenn Beck, debuted in July and has gathered a respectable following over the past four months. It was an especially strong night for cable news across the board, as the Conrad Murray verdict, Herman Cain sexual harassment allegations, and Penn State child molestation news combined to bring in viewers in bunches to the cable news shows.
Other nuggets from Monday night:
Bill O'Reilly attracted 3.4 million total viewers, just narrowly missing a momentous upset of Rock Center With Brian Williams, which attracted 3.64 million on broadcast network NBC.
Piers Morgan had an exclusive interview with Cain accuser Sharon Bialek, pulling him ahead of Rachel Maddow at 9 p.m., giving CNN a second-place finish in the time slot. CNN had five second-place finishes on Monday; HLN and MSNBC had one each.
Dr. Drew had a borderline-inappropriate Internet hit with his examination of 17 year-old Courtney Stodden's breasts during his daytime show, Lifechangers (Borderline-inappropriate spoiler alert: They're real!), but pulled in a terrible 70,000 viewers in the demo for his HLN show. His ratings were the worst of any show on any cable news channel Monday night.
Ed Schultz's replay at 11 p.m. and HLN's Showbiz Tonight Special at 10 p.m. were the only other shows to attract less than 100,000 viewers, with 77,000 and 94,000, respectively, in the demo.
And now for a new little toy we're trying out — Average time slot finish:
FOX: 1
CNN: 2.3
HLN: 3.3
MSNBC: 3.4
The rest of your Monday night ratings:
TV NEWS RATINGS: 25-54 DEMOGRAPHIC (L +SD)
5 pm
The5

460

Blitzer

199

Matthews

149

Special

292

6 pm
Baier

555

King, USA

161

Sharpton

116

Prime

157

7 pm
Shep

535

Burnett

158

Matthews

170

Issues

129

8 pm
O'Reilly

812

Cooper

218

Schultz

135

Grace

142

9 pm
Hannity

577

Piers

204

Maddow

197

Dr. Drew

70

10 pm
Van Susteren

379

Cooper

249

O'Donnell

151

HLN Special

94

11 pm
O'Reilly

325

CNN Presents

144

Schultz

77

Showbiz

110

TOTAL DAY
309
162
106
136
PRIME TIME
589
224
163
100
Data by Nielsen Media Research. Live and same day (DVR) data.
TV NEWS RATINGS: TOTAL VIEWERS (L +SD)
5 pm
The5

1,867

Blitzer

825

Matthews

866

Special

873

6 pm
Baier

2,341

King, USA

592

Sharpton

613

Prime
575
7 pm
Shep

2,288

Burnett

502

Matthews

806

Issues

473

8 pm
O'Reilly

3,400

Cooper

537

Schultz

761

Grace

362

9 pm
Hannity

2,196

Piers

564

Maddow

849

DrDrew

172

10 pm
Greta

1,498

Cooper

637

O'Donnell

702

HLN Special

235

11 pm
O'Reilly

1,073

CNN Presents393
Schultz

389

Showbiz

247

TOTAL DAY
1,280
468
458
379
PRIME TIME
2,367
579
773
252
Data by Nielsen Media Research. Live and same day (DVR) data
Have a tip we should know? tips@mediaite.com