Moody's Economist to Chuck Todd: 'I Just Don't Believe' Terrible December Jobs Report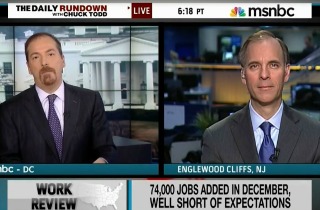 Moody's Analytics Chief Economist Mark Zandi joined MSNBC host Chuck Todd on Friday where he said he does not put any faith in a December jobs report which showed just 74,000 jobs created and the workforce participation rate dropping sharply, forcing the unemployment rate down from 7.0 percent to 6.7 percent. "2014 going to be a very good year," Zandi assured Todd.

"I just don't believe them, Chuck," Zandi said of the number of jobs created in December according to the Bureau of Labor Statistics. "They were uniformly weak. The number was so low it's just not consistent with all the other economic data that we're getting."
RELATED: Jay Carney Swats Away 'Conspiracy Theories' About Faked 2012 Employment Data
"It just doesn't make any sense, so I'm just not paying any attention to it at all," he added. He said that outlier reports are not uncommon and they are usually revised significantly in the following month.
Todd asked Zandi for his take on the fact that the labor participation rate is today the lowest it has been since February, 1978, at 62.8 percent. "This is a problem," Zandi said. However, he said that this is due "in large part" to a wave of retirements among members of the baby boomer generation.
He says that the true unemployment rate, when factoring in labor participation, is approximately 7.7 percent.
He twice insisted that he is "convicted" about the fact that 2014 will be the year that the economic recovery will accelerate. "I feel strongly about the state of the economy," Zandi insisted. "We are on much sounder ground. We righted the wrongs from the Great Recession. The only missing ingredient is confidence."
Watch the clip below via MSNBC:
[Photo via screen grab ]
— —
> >Follow Noah Rothman (@NoahCRothman) on Twitter
Have a tip we should know? tips@mediaite.com