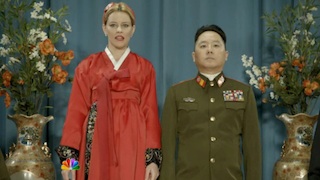 Despite Kim Jong-il being a ruthless dictator who's made the lives of millions absolutely miserable for decades, it's still important that we have enough compassion and empathy to recognize that he is still a human being who has passed away. And that's why my first thought upon hearing this shocking news last night was, "Huh, I wonder if this will mess up 30 Rock this year?" Yes, clearly I was deeply saddened by his loss.
Anyway, for those of you that don't know, the NBC series ended its last season with the news that Jack's (Alec Baldwin) wife, Avery Jessup (Elizabeth Banks), had been kidnapped by the North Korean dictator and it the story was supposed to be a major plotline for this year. With the new season's premiere only weeks away and much of it already filmed, we can imagine that yesterday's news is throwing a mighty big wrench in the works.
The character of Jessup (now Jessup-Donaghy) is supposed to be a CNBC commentator who Jack married last season after it became clear she was pregnant with his child. The baby was born and towards the end of the season, she travelled to North Korea as part of what Jack described as NBC News' "hot blondes in weird places initiative." There she ended up getting held hostage by Jong-il and forcibly married to his son Kim Jong-un. Jack tried everything to get her returned (including a hilarious meeting with Condoleezza Rice), all to no avail. This season, it seemed that one of the biggest stories, at least for the first few episodes, would involve Jack attempting to raise his daughter by himself while orchestrating his wife's release.
Just last week, NBC premiered a teaser for the new season which shows a number of shots of the North Korea plot. Baldwin actually says in the video that "a lot of things are going to happen this season apropos of my wife being gone." Yikes.
The new season hasn't actually premiered yet (do in part to Tina Fey's pregnancy, it was held to mid-season), but it's been in production since at least October. Tons of footage has already been shot. Fortunately, 30 Rock has always been good with the meta jokes so you can expect at least one re-shot scene with Baldwin mentioning how shocking Jong-il's death was to everyone and then pointedly looking at the camera. Still, this is probably going to lead to a lot of extra work on the show's part.
The only person attached to the show who's commented on the issue thus far has been Banks who sent out this vague tweet: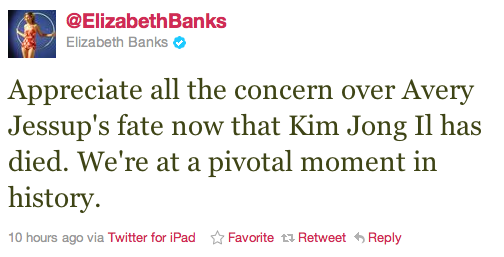 Last night, Bill O'Reilly guessed that the only person weeping over Jong-il's death was "his hairdresser." He was clearly wrong about that and it now seems quite possible that there are some folks in America shedding some tears as well. Those people are probably sitting in a writers' room in Rockefeller Center.
Watch the season 6 teaser below. The talk of the Avery plot begins around the 2:05 mark:
Have a tip we should know? tips@mediaite.com