Morning Joe Asks: Could Chris Christie Succeed In GOP Primaries After 'Bucking' His Own Party?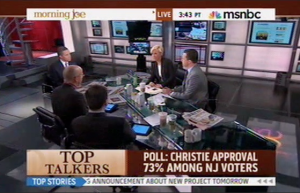 The Morning Joe crew took a look at NJ Gov. Chris Christie on Tuesday, specifically questioning how well he'd do on the national stage. Noting Christie's 2016 potential, the roundtable wondered whether Christie's embrace of bipartisan criticism would help or hurt him in the Republican primary process — should he decide to run.
"I would assume there are high-level Republicans talking to him, courting him, trying to make it happen," Mika Brzezinski noted, citing his high approval numbers.
"He's taken it one step at a time — getting the governorship, getting re-elected matters a lot to him," John Heilemann chimed in. "He's obviously on track to do that."
That said, what the GOP looks like in a few years is "up for grabs," he added, given that there are several factions within the party. His "appeal could be crossover," or other candidates may emerge. It remains to be seen.
To that point, Willie Geist posed a question: "Does his relationship and his praise for President Obama during the hurricane, his coming out the other day and trashing, very publicly, John Boehner, by name — does that hurt him long term or is that a better place for him to be?"
Harold Ford, Jr. remarked that that's the right question to ask, noting the significant role some groups play during the primary process, "picking underdogs who align themselves ideologically with those groups."
Christie has to see whether he can "play in that sandbox," Ford added, noting that the governor does better with bigger, bipartisan issues. "At the end of the day," he said, "there are only two people in the Republican Party warrant a conversation. One is Jeb Bush and the other is probably Chris Christie."
Watch below, via MSNBC:

Have a tip we should know? tips@mediaite.com