Morning Joe Backs Brian Williams: Media Should Be Careful 'Casting First Stone'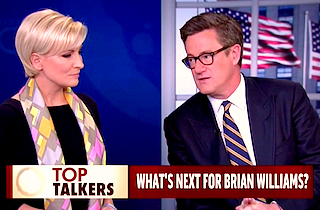 The hosts of Morning Joe addressed the fallout from Brian Williams' false Iraq story Monday morning, after staying noticeably quiet after it broke last week. The hosts acknowledged their friendship with the NBC anchor made objectivity difficult — and repeatedly stated that "nobody here is excusing what Brian's done" — but argued that Williams' mistakes should not overshadow his long, respectable career.
"I'm hopeful that when all of the madness online and all of the madness that's going on…dies down," Joe Scarborough said, "and the decision is made to judge what Brian Williams' future should be, that that decision will be based on the entirety of his career and not on one or two or three mistakes."
Brzezinski added that she was "horrified by the pile-on I'm seeing out there."
"If he exaggerated, if he puffed his chest out a little bit — news people do that," Scarborough said, after quoting scripture about casting the first stone. "Politicians do that. Guys do that. We've all done that at times. You have to ask the question, where was it done? Was it done at David Letterman, or was it done when he was reporting the news?"
Scarborough then brought up the underaired point that Williams has come under more scrutiny than some who misreported in advance of the Iraq War.
"I saw somebody write yesterday saying, a misstatement or an exaggeration about a helicopter is far less damaging to the future of this country than the range of misinformation that were reported leading up to the Iraq War," Scarborough said, "when a lot of reporters should have been asked a lot tougher questions."
Watch the clip below, via MSNBC:
[Image via screengrab]
——
>> Follow Evan McMurry (@evanmcmurry) on Twitter
Have a tip we should know? tips@mediaite.com