Morning Joe Bashes Obama for Gruber Response: 'White House Thinks People Are Stupid'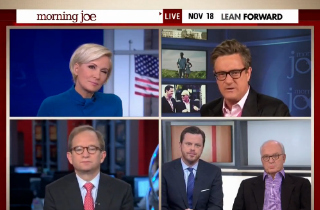 Tuesday morning on Morning Joe the entire panel expressed bafflement that despite evidence of President Barack Obama and MIT professor Jonathan Gruber's intellectual relationship, the former attempted to dismiss the latter as just "some adviser" when asked about Gruber's controversial comments.
Over the past ten days, multiple videos have emerged of Gruber suggesting the Affordable Care Act only passed because of a "lack of transparency" and "the stupidity of the American voter." By carefully disguising the health care mandate as something other than a tax, Gruber has repeatedly said, the public was more welcoming to the legislation.
The latest video to emerge in so-called "GruberGate" was a 2006 clip of then-Sen. Obama naming Gruber among a small group of academics from whom he liberally steals ideas. But when asked about Gruber on Sunday, the president said: "I just heard about this… The fact that the some adviser who never worked on our staff expressed an opinion that I completely disagree with in terms of the voters is no reflection on the process that was run."
And because of that dismissive response, the Morning Joe crew went off this morning.
"Who Gruber? What Gruber? Where Gruber? Horton hears a Gruber? I don't know a Gruber," mocked Joe Scarborough. "How many times do we hear [from Obama], 'I was just told about this scandal'?"
The host continued: "Talk about taking a one-day story and making it a one-week or two-week story. They should have just come out and said, 'Jonathan Gruber, really smart guy, they helped us draft there bill. he's an idiot. There are obvious reasons why he's a tenured professor. Because he's an idiot in front of cameras.' But they didn't do that."
Mika Brzezinski and Mike Barnicle both agreed that the White House response should've just been along the lines of "Smart guy, stupid thing to say."
Steve Rattner added that when he worked for the Obama White House, Gruber was an "important figure." And Willie Geist noted how it's not just some one-time gaffe, but rather a repeated "contempt for the American people."
Ultimately, Scarborough concluded, "It's almost like the White House thinks people are as stupid as Jonathan Gruber thinks people are."
Watch below, via MSNBC:
— —
>> Follow Andrew Kirell (@AndrewKirell) on Twitter
Have a tip we should know? tips@mediaite.com