Morning Joe Battles David Brock over Clinton Emails: 'What Planet Are You on?'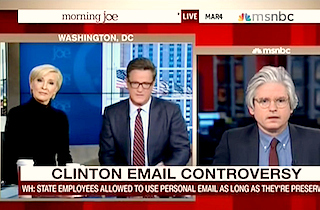 Media Matters founder David Brock appeared on Morning Joe Wednesday morning and demanded the New York Times issue a correction for yesterday's report that Hillary Clinton's use of a personal email account while Secretary of State may have violated federal law. (The issue was admittedly murky.)
Until he resigned last month, Brock was a prominent member of Clinton's PAC Priorities USA Action.
"The only named source they have to support this allegation, Jason Banks, who was the highest ranking lawyer in the national archive, said after the piece was published that no law was broken," Brock said. "So the story is wrong. It's based on a false premise…I think the article was really sloppily done."
Hosts Joe Scarborough and Mika Brzezinski cited a 2009 Federal Records Act regulation requiring departments to archive in their system electronic communication conducted outside of their own servers.
RELATED: Report: Clinton Used Home Email Server While at State Dept.
"The 2009 law you're referring to isn't even cited in the New York Times," Brock said. "It's such sloppy journalism you don't know what regulations the reporter's talking about…There was no violation of law here whatsoever, and nobody that I can see is saying that except the New York Times."
Washington Post reporter Bob Woodward called this a "non-denial denial."
When Brock again denied that "any legal authority" had said Clinton's actions were illegal, Brzezinski broke in: "I'm not sure what planet you're on right now. Are you reading the same thing we're reading?" Brock replied that the State Department said yesterday that the emails were archived under a regular process.
"All I'm saying is let's not have a situation where the normal journalistic rules apply to everybody but Hillary Clinton," Brock said. "And let's not forget that the real story here is you've got a dying Benghazi investigation on Capitol Hill…they want a fishing expedition into these emails."
"The New York Times got snookered by the Benghazi folks," Brock concluded.
Watch the clip below, via MSNBC:
[Image via screengrab]
——
>> Follow Evan McMurry (@evanmcmurry) on Twitter
Have a tip we should know? tips@mediaite.com