Morning Joe: Bill Daley Demotion Is White House Reaction To 'Internal Frustration' In Post-Rahm Era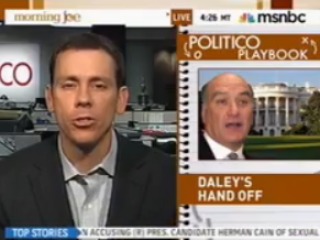 On Tuesday, the Morning Joe crew reacted to news that the White House is "shuffling roles" within its administration, placing White House Chief of Staff Bill Daley in a role better described as that of an "ambassador," and handing some of his former day-to-day duties to longtime Obama ally Peter Rouse. What does this mean for the White House, the team wondered, and there a chance this can be perceived as anything other than a demotion for Daley?
RELATED: Media Outlets Struggle To Describe White House Chief Of Staff Bill Daley's Demotion
Politico's Jim Vandehei noted this may be a case of the White House responding to frustration by placing Peter Rouse, "who has been around for a long time," in a role where he can handle "day-to-day activity," particularly where Capitol Hill is concerned, with Daley now acting as "more of an ambassador" both to people in D.C. and within the business community.
"I think that that role probably better fits Daley's core strengths as a leader," Vandehei added, "but it does speak to this frustration internally with how the White House has been managed in this sort of post Rahm Emanuel era."
You may recall that Daley was the subject of a recent — and rather revealing — Politico piece wherein the characterized the first three years of the Obama administration as "brutal" and "ungodly," while laying out Obama's plan for re-election.
RELATED: WH Chief Of Staff Bill Daley: First Three Years Of Obama Adminstration Have Been 'Brutal'
Vandehei continued:
Capitol Hill that he's been griping a bit about feeling like his advice is not being listened to internally and there is a common complaint that you hear from Democrats that if you're not part of the original Obama team. So if you're not David Plouffe, not David Axelrod, it's hard to fit in with this group that's been together for a long, long time. i think what you hear from Daley is what we've heard from a lot of other aides that have left the White House that were part of the inner sanctum.
When asked whether this could be seen as anything other than a demotion for Daley, Vandehei replied that "the truth is David Plouffe has always been the power inside this White House, so I think it's more a reflection of the frustration people have felt internally and externally and it's the White House reacting to that and trying to figure out the right formula, particularly in dealing with Capitol Hill."
Have a look, via MSNBC:
Have a tip we should know? tips@mediaite.com