Morning Joe Blasts 'Disorienting,' 'Insulting' McCain/Graham Response To 'Fearless' Rand Paul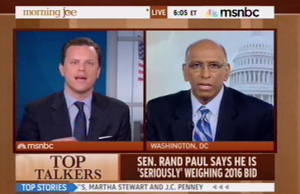 With the topic of drones currently holding on to the news cycle's attention span, Morning Joe ended the week by revisiting the issue. The panel debated not only what Sen. Rand Paul's filibuster reveals about the Republican Party (spoiler: divisiveness), but also the drone program's merits in general — which Harold Ford, Jr. staunchly defended.
Less a reflection of the GOP as a whole, Michael Steele argued that the whole ordeal has exposed the way some within in the party simply don't see where this issue is headed. Paul "got the administration to admit something that it heretofore refused to admit to," and Sens. John McCain and Lindsey Graham reacted in an "insulting" way.
"It was a little disorienting" to see them defend President Obama's policy, Willie Geist added. Paul "scrambles Republican politics," Mark Halperin offered, pointing to a larger issue within the Senate: The younger senators are unafraid of going after the establishment.
Paul is "fearless," he added, and willing to take a stand even if that means the likes of McCain and Graham. The drone issue "cuts to something very deep and core," John Heilemann chimed in. "We're seeing like really the first stages of a debate that's going to go on for the next 20 to 30 years. It really does kind of redraw the battle lines in interesting ways."
Geist further noted that Paul not only raised his own profile, but also managed to form a "strange coalition." That's the interesting part of this conversation, Leigh Gallagher argued, because it poses serious questions: "What are the standards?"
To that point, Ford defended the program in terms of using it against U.S. citizens abroad. "If you socialize, dine with, spend time with known terrorists who are on a list of those who want to do harm to America," he asserted, "you put yourself at peril."
Take a look, via MSNBC:

Have a tip we should know? tips@mediaite.com