Morning Joe Bro Asks If Obama Ruined Hillary's Big Moment By Being First Black President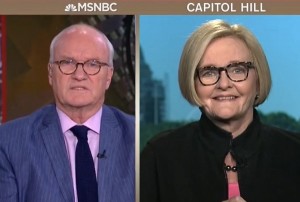 Seriously, what the hell is going on at MSNBC? On Thursday's edition of Morning Joe, Missouri Senator and Hillary Clinton surrogate Claire McCaskill was minding her own business, talking about unifying the Democrats and defeating Donald Trump, when all of a sudden she was attacked by a frothing North American saber-toothed Hot Take.
It was actually a two-parter from MJ regular and Boston Globe columnist Mike Barnicle, who asked McCaskill if Barack Obama had ruined Hillary's historic moment Tuesday night by being elected the first black president eight years ago, and whether the world could handle not one, but two women on the same presidential ticket:
Senator, the other evening, as Hillary Clinton accepted her victory in California, in New Jersey, and went over the top in terms of delegates, it was a truly historic moment. And her speech, her appearance reflected that. But do you get the sense that it's of such historic proportion, but it's a bit overshadowed because it follows the election of the first black president in the history of the United States of America, and maybe her selection as a vice presidential candidate, if she chose a woman, that — do you think it may just be too over the top to have another woman on the ticket?
Congratulations are in order for Senator McCaskill, who somehow managed to resist the urge to run out of the remote studio, purchase the first liter of Dasani she could find, fly to New York, take a big swig of it, then ostentatiously spit-take it all over Barnicle. Who watches that speech, scowls, and says "Thanks, Obama!"?
Instead, McCaskill calmly replied that of course, Hillary's nomination is a big deal even with a black president, and also gave a decent snapshot of Hillary's potential VP shortlist, which included Sen. Elizabeth Warren (D-MA), Sen. Tim Kaine (D-VA), and Sen. Sherrod Brown (D-OH).
This is an opinion piece. The views expressed in this article are those of just the author.