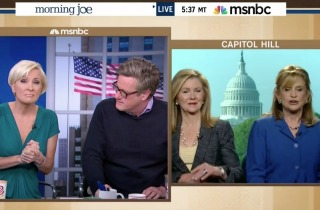 On Wednesday, Reps. Carolyn Maloney (D-NY) and Marsha Blackburn (R-TN) joined the hosts of MSNBC's Morning Joe where they promoted their unity on an upcoming vote on a bill to establish a women's history museum. When the subject was changed, however, to the stalled Keystone XL Pipeline, the conversation grew tense. Maloney, a member of a party split on the issue of Keystone, dodged the issue in such an guileless fashion that she drew subtle mockery from her interviewers.

TIME Magazine's Mark Halperin shattered the morning's placid and bipartisan recollections of the suffrage movement when he asked Blackburn "what it will take to get the administration to approve" the pipeline.
Blackburn turned the screws with her response, noting that the effort to force approval of the project has been led by two Democrats in the Senate: Sens. Joe Manchin (D-WV) and Mary Landrieu (D-LA). Maloney maintained a polite smile, all the while concocting a clever response that would simultaneously defuse the politically explosive issue and not commit her or her party to a position that might fracture it.
With more than 60 seconds to formulate a comeback, Maloney's gave up on something clever and settled on an artless dodge. "Let's focus on building this museum and making it happen," she said.
At this point, Joe Scarborough began anxiously tap his cue cards — a staccato rapping that evinced a mixture of frustration and amusement. "That's a shocker," he sarcastically interjected while Maloney's autopilot monologue about the glorious accomplishments women continued.
Co-host Mika Brzezinski, who wasn't having any of this, finally interrupted and pressed Maloney on the issue of the pipeline. "Let's see how it evolves," Maloney conceded.
No one seemed convinced.
Watch the clip below via MSNBC:
[Image via screengrab]
— —
>> Follow Noah Rothman (@NoahCRothman) on Twitter
Have a tip we should know? tips@mediaite.com