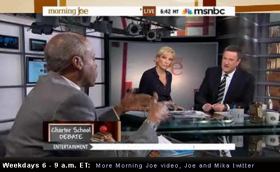 Due to Morning Joe's tendency of having colorful personalities from Joe Biden to Donald Trump drop by, Wonkette once elegantly (albeit slightly inaccurately) described it as "the one where some ex-Congressman and a random statesman's daughter drink Bacardi for like four hours and then have sex on Dylan Ratigan's ottoman." But today the Morning Joe crew proved they are also providing the most informative and relevant content in morning cable news programming with a debate on reconstructing the public school system that every parent in an at-risk community should pay close attention to.
Joe and Mika had New York State Sen. Bill Perkins on the show to debate the possible benefits of charter schools in urban communities– schools that do not have to follow certain government regulations in exchange for being expected to present better learning results. The senator, who is hosting a public forum to debate the matter, is concerned that the schools are not all they are chalked up to be. "Statistics don't always tell the truth," he responded to Scarborough's citing of a Stanford University study showing that charter schools are wildly successful with a 91% population of underprivileged students. His skepticism stemmed from the clear racial differences between successful public schools and charter schools: "We are resegregating our public school system with charter schools."
Scarborough was not convinced that his statistics were wrong- not that Perkins tried to use any counter-evidence against him. The increased flexibility in the classroom, he argued, was putting more and more underprivileged youth in college and bringing them up to required levels of reading and math proficiency at their grade level. It was a spirited and entertaining debate for anyone, but especially important for those directly affected by the proliferation of charter schools: parents, teachers, and students alike.
Check out the debate below:



Have a tip we should know? [email protected]