Morning Joe Clashes Over Supreme Court 'Squirming' On Marriage: Not About Being On Right Side Of History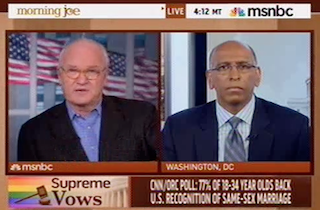 Morning Joe followed up on Proposition 8's day in the Supreme Court this morning, discussing the oral arguments and debating the court's approach. While the public opinion on the issue of gay marriage has clearly shifted, the panel agreed, the Supreme Court seemed hesitant to even tackle it. For some of the justices, Michael Steele asserted, this is not about being on the right or wrong side of history — it's simply about the Constitution.
Fundamentally conservative, the Supreme Court tends to be behind social trends, TIME's Rana Foroohar argued — but support for this issue isn't new, and it's only building. That led to a larger discussion about the politics of the issue, including lawmakers who've recently changed their minds about it, with Mike Barnicle noting that the court isn't "immune" to seeing the political side. "The train has left the station," John Heilemann agreed.
"This court very much wants to punt this bad boy back to the states as fast as they can get it there," Steele argued. "State legislatures are where the action is and the game is."
On that note, Barnicle, noting the powerful "flow of history," pointed to a Maureen Dowd op-ed that asserted that, "Given a chance to make a bold decision, putting them on the right and popular side of history, they squirm."
"You certainly got that sense from a long line of questioning yesterday that they were squirming, looking for a way to push this away from them," he added, leading Steele to respond that, for the court, this largely isn't about "the right and popular" side of history.
"Justice Roberts has been very clear about this, he's not looking to put the court on the right or the wrong side of history," Steele contended. "He is trying to make the right constitutional decision, which is why the standing issue is a big deal for a lot of these justices, including the very liberal justices who probably are very supportive of gay marriage but constitutionally know maybe this party shouldn't be here — they shouldn't be the one bringing this."
Take a look, via MSNBC:

Have a tip we should know? tips@mediaite.com