Morning Joe Clashes Over Women In Combat: 'There's A Reason Why There Are No Women In The NFL'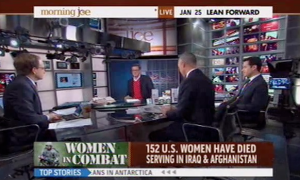 Morning Joe ended the week with a discussion about the Pentagon's decision to lift the ban on women in combat roles. While they all seemingly agreed that it's an important step, they disagreed when it came to execution. Joe Scarborough, in particular, said the Pentagon should make sure they're not lowering standards for "politically correct reasons."
"There's a reason why there are no women in the NFL," Scarborough asserted. "There's a reason why there are no women in Major League Baseball. There's a reason why there are no women in, you know, most male-centered professional sports. There is a difference physically between men and women."
He went on note that those in combat leave no man behind, and with the ban lifted, they will leave no women behind. So the question becomes: "Will that, in any way, jeopardize the safety of men and women that are going to be fighting now in the future?"
Richard Wolffe contended we've moved past that, with Scarborough hoping that wasn't the case. Wolffe went on to note that everyone has to pass physical tests for combat roles, and that would be the case for women as well.
"I'm not saying I don't want women in combat," Scarborough clarified. "Women can be in combat, but I'll be damned, if we find out that the Pentagon is lowering standards for politically correct reasons, then you know what? Then the blood of dead Americans in future battles will be on their hands."
He then offered up a hypothetical: If Mika Brzezinski, a fit woman whom they supposed weighs around 120-130 pounds, is injured, "I can throw her up on my shoulder, and we can keep running forward." If Scarborough were injured, however, how does she drag him back?
To the contrary, Sam Stein noted that not every women will allowed — only those with the necessary physical capabilities. The important point, he said, is that a "discriminatory" restriction has been lifted. But the execution is, of course, crucial. He later went on to add that we don't see the opposite occur: We don't see men being questioned if they're entering women-dominated industries (of which there are few).
Rounding out the discussion, Kelly O'Donnell made a slightly different point. Even with the restrictions lifted, she said, not every woman who's the most fit and skilled will want to cross over into those roles — "just for their own self-interest of surviving and getting home to their own young kids."
Take a look, via MSNBC:

Have a tip we should know? tips@mediaite.com