Morning Joe Clashes With Santorum After Asking About Contraception. 'Gotcha' Journalism Or Fair Question?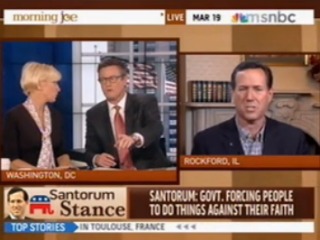 On Monday's edition of Morning Joe, GOP presidential hopeful Rick Santorum vented some of his frustration at the media's propensity to focus on certain issues — like contraception — after being asked about that very topic by host Mika Brzezinski.
"Since you talk about connecting with average ordinary Americans," noted Brzezinski, "some analysts — including maybe some on this set — might have said that you got a tad bit side-tracked on the issue of contraception in a way that doesn't connect with. not only members of your party, but across the board. Just totally off message, off base in terms of what plagues this country right now. Were members of your team telling you to back off?"
"Well, as you know, Mika, the issue is not contraception," he replied. "The issue was government-mandated health insurance," which, he argued, is completely on-message given it deals with the role and limits of the federal government.
"You know," he continued, "the left is very keen on talking about separation of church and state when they mean the churches can't participate and people of faith can't participate in the public square. But, you know, where is the separation of church and state when the government wants to force churches and people of faith to do things that are against their faith? I man, this is in direct violation of the first amendment."
RELATED: Santorum Doubles Down: Obama Admin 'Putting Children At Risk' By Not Prosecuting Pornographers
Host Joe Scarborough then brought up an interview Santorum had conducted back in the fall where he'd emphasized his commitment to discussing contraception. Does he regret saying that?
Santorum shook his head and laughed, accusing Scarborough of participating in typical "gotcha" journalism.
Brzezinski and Scarborough then had what appeared to be a little pow-wow — Perhaps about wrapping up the segment? Moving to another topic? — as Santorum continued speaking about how the "destruction of the American family" as an economic unit. "Let's try to focus on reality," Santorum later advised, instead of following the narratives the media attempts to pitch.
When Scarborough asked Santorum directly if he felt the host was trying to pigeon hole or stereotype, Santorum responded with, "well, yeah, sure." Scarborough then added that he'd been ready to move on, but "you wanted to keep talking about it."
Have a look, via MSNBC:
Have a tip we should know? tips@mediaite.com