Morning Joe Crew: Christie Learning Lesson About Hostile Media McCain Learned 'Too Late'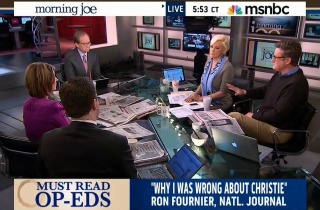 The hosts and guests on Fridays Morning Joe on MSNBC invited National Journal Editorial Director Ron Fournier on the program to discuss a recent column in which he claimed that New Jersey Gov. Chris Christie's record as governor has been irreparably damaged by the scandals surrounding his administration. Joe Scarborough and Nicolle Wallace did not entirely agree. They said that Christie is learning a lesson about a hostile media that Sen. John McCain (R-AZ) learned "too late" and that may "fortify him" for a potential 2016 presidential bid.

"If it comes out that he was behind this or knew about it, lights out," Wallace said of the scandals engulfing Christie's administration. "But, if it doesn't, I actually think this could fortify him for a national run and teach him something that every Republican who, prior to running for national office, needs to learn: You no longer run with the media."
"You have to understand how to, in some instances, run against parts of the media," she continued. "Christie could be fortified for a national run the way no one else on the field will be."
RELATED: Chuck Todd: Some GOP Donors Think Christie's '2016 Hopes are Done'
Scarborough said Christie is paying the price today for hiring "rank amateurs." When former White House advisor Steve Rattner asked if this incident has not tarnished Christie's brand in an irreparable way, Wallace said that he can not only recover but emerge as a stronger political actor.
She added that she watched McCain learn that the press will turn against you in 2008 too late for it to be an asset in that race. Scarborough revealed that he had heard stories about McCain refusing to accept that the press would "all be against you."
"He never accepted it," Wallace said. "Devastating."
"Republicans need to understand that it's not a fair fight, but it's the fight that Ronald Reagan somehow fought and won 49 states," Scarborough closed.
Watch the clip below via MSNBC:
[Photo via screen grab ]
— —
> >Follow Noah Rothman (@NoahCRothman) on Twitter
Have a tip we should know? tips@mediaite.com