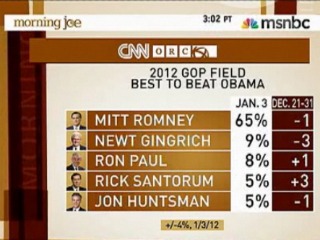 On Thursday, the Morning Joe crew pondered whether Mitt Romney's current, post-Iowa popularity in New Hampshire (where he was polling at 47 percent as of Tuesday, versus 17 percent for Ron Paul and 13 percent for Jon Huntsman) and the fact that a whopping 65 percent of likely primary voters polled believe he's the best GOP candidate to beat Barack Obama points to the reality that the GOP has "no alternative" but to go with the former governor of Massachusetts.
Joe Scarborough's take? Everything may be "coming up Romney," but the media doesn't like "having the same story," and a headline like "Romney Still Ahead" or "Yup, Still Romney" makes us itchy for DRAMA. So, a new narrative: If Romney doesn't manage to break 40 percent in New Hampshire, it will be considered a loss.
RELATED: Jon Stewart: GOP Is Trying 'Every Chocolate In The Box' Before Settling On Mitt Romney
Panelist Mike Barnicle brought up rival candidate Newt Gingrich's increasingly "negative" attacks on Romney, pointing out that these sorts of squabbles ultimately work to up the entertainment value of the election process.
RELATED: Newt Gingrich: Mitt Romney Is A Liar, 'Massachusetts Moderate'
Harold Ford, Jr., meanwhile, sees this as "Romney's race," adding that Republicans have reached a point where there is "not an alternative" to Romney right now.
But, Scarborough pointed out, time can only tell if Romney can manage to keep his momentum going in southern states like South Carolina and Florida. This may be, he surmised, why Rick Perry is staying in the race despite disappointing numbers in Iowa: he knows "just how weak Mitt Romney is."
Have a look at their discussion, courtesy MSNBC:
Visit msnbc.com for breaking news, world news, and news about the economy
Have a tip we should know? tips@mediaite.com