Morning Joe Crew Blasts de Blasio's 'Ridiculous,' 'Irresponsible' Snow Storm Performance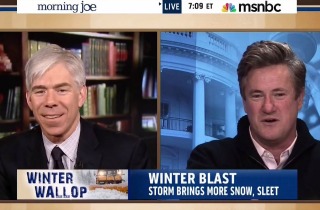 The hosts and guests on MSNBC's Morning Joe were sharply critical of New York City Mayor Bill de Blasio on Friday morning over his handling of Thursday's nor'easter. Between de Blasio's decision to "punch down" at criticism from NBC meteorologist Al Roker and his administration's "reckless" and "irresponsible" decision to keep the city's schools open, the Morning Joe crew is not impressed with Gotham's new mayor.

The hosts began by being critical of de Blasio's decision to respond to Roker's criticism. "The number one rule I was told at campaign finance – or, campaign school," host Joe Scarborough said, "is never punch down."
"Don't respond to attack on twitter. If you're a public official, that's absolutely ridiculous," he added.
"You've got to be above the fray," former Vermont Gov. Howard Dean agreed.
RELATED Al Roker Rails Against NYC Mayor de Blasio: 'Don't Blame Weather for YOUR Poor Policy'
Scarborough and MSNBC meteorologist Bill Karnis blasted de Blasio over his insistence that the forecast ahead of this storm was inaccurate and took city officials by surprise.
"If you're going to be tough, if you're a city official and you say, 'We're going to keep the schools open, that's how we do it,' you've got to be able to back that up," Meet the Press host David Gregory said. "You've got to keep the roads clear. You can't just be thinking about kids who might be able to walk to school or live close to the school."
"It's not just annoying to parents, but you have real difficulties for people who are working, trying to get to work," the host continued. "If all the sudden, you say, 'oh no, we're going to keep the schools open,' and then you shut them down because you were wrong, that's just reckless."
"It gets to a point of governance at any level that is really irresponsible, because it really does get treacherous and it can get treacherous fast for people coming longer distances," Gregory concluded.
Watch the clip below via MSNBC:
[Photo via screen grab ]
— —
> >Follow Noah Rothman (@NoahCRothman) on Twitter
Have a tip we should know? tips@mediaite.com