Morning Joe Deciphers Obama's Reluctant Outreach: GOPers 'Don't Like Him And Say Nasty Things About Him'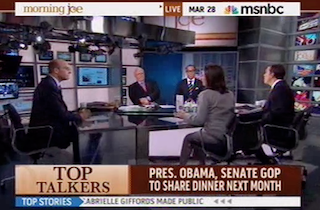 President Obama is once again reaching out to Republicans, this time in hopes of making progress on the budget, immigration, and gun control. The Morning Joe crew discussed this on Thursday, looking to Obama's recent (reluctant) outreach in general. Republicans may "say nasty things to him," Jim VandeHei said, but these efforts matter.
A "skeptical" VandeHei noted that Obama isn't keen on such dinners but was under tremendous pressure to engage with Republicans in this way. Obama wants a legacy on immigration, and Republicans won't be winning over Hispanics without it, so theoretically a deal looks plausible — but it won't be easy.
"The problem is how does Chuck Schumer and Senator Rubio sell the same bill? It's very difficult," Mike Allen noted. Slowly, though, the discussion turned toward Obama's outreach and the criticism that people in Washington don't feel as though they know him.
"He is never going to be a warm and fuzzy president," Maggie Haberman argued, adding that Obama isn't "a particularly needy human being." He just doesn't need the interaction the way someone like Bill Clinton does. But, Allen jumped in, Clinton won people over whereas Obama "makes so little effort…and people just don't get why."
"He feels like he doesn't get anything for it," he added. "He is fed up with these guys because he feels he has put in the time with nothing to show for it."
VandeHei underlined the importance of outreach, asking, "For anyone who thinks that relationships don't matter, why is it that every time they are almost at a budget impasse and something has to get done — why is it that Joe Biden has to come in and talk to Mitch McConnell?" They very different, but trust each other and have a relationship, so they can come together to work out a deal. It does matter, he added, but it is difficult: "Republicans don't like [Obama], they say nasty things about him."
Take a look, via MSNBC:

Have a tip we should know? tips@mediaite.com