Morning Joe: Despite Ron Paul's Young GOP Backers, His Message Is 'Destined To Be On The Edge Somewhere'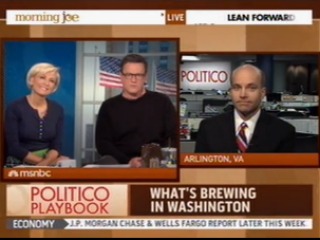 On Monday, the folks at Morning Joe brought on Politico's Mike Allen to talk about Ron Paul's legacy… but not before celebrating host Joe Scarborough's birthday, as well as that of Rick Santorum's eldest daughter, Elizabeth. Cake for everyone! Tastes like "humanization." And pomegranate.
But, back to Paul and the mark he's set to leave on the future of the party…
"He's going to be out of office soon," said Allen, "and of course he is hoping to pass the torch to Senator Rand Paul of Kentucky. But Politico discovered a couple of dozen former Ron Paul supporters are running around the country largely on his platform," adding that Paul "has fielded a whole generation of younger candidates who are going to carry on these ideas."
RELATED: Ron Paul: 'The Truth Is I'm Trying To Save The Republican Party From Themselves'
Here's an excerpt from Politico's piece, titled "Ron Paul's baby boom:"
There's no exact way of measuring how many Paul-inspired candidates are running this year. But Jared Paine, a Paul supporter who operates a website that tracks the campaigns of libertarian-minded candidates, said he counted around two dozen active Paul backers who are running for House or Senate seats and another 200 or so who are seeking local offices — almost all of them running as Republicans.

It's a measure of the depth of the passion Paul inspires from his supporters, which is marked by a ferocity and commitment to the cause that few other pols can command.
Mark Halperin had an admittedly "glass half empty" view on the matter, noting that Paul "could have been bigger."
"I think his views strike a bigger chord with a lot of Americans than his supporter bases right now," he explained, "in part because of the debates stopped and in part because I think he did not perform that well as a candidate. He had a huge following, his ideas had a lot of resonance for tens of millions of people. But I think he missed a moment to really galvanize on smaller government and anti-foreign policy venturism."
Steve Rattner, meanwhile, felt that Paul's message was "crazy," "fringe," and that, while "he did appeal to a certain strain of emotion or thought or whatever out there," Paul's message will ultimately "always be destined to be on the edge somewhere. "
Allen pointed out that, nonetheless, Paul's legacy continues because his supporters entering politics are all overwhelmingly 1) young and 2) running as Republicans. Despite what some of the "communists," as they joked, on the panel and at The New Yorker might think.
Check it out, via MSNBC:
Have a tip we should know? tips@mediaite.com