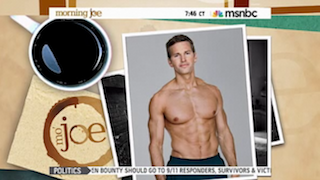 Rep. Aaron Schock and Men's Health have started up a campaign to make us all feel terrible about ourselves and our bodies. Oh, wait. I misread that. They're actually trying to get Americans "to lose weight and get healthier this summer" as part of the Fit for Life Summer Challenge. Of course, their campaign involves putting pictures of a shirtless Schock, the "Fittest Congressman," on their cover so side effects may involve us all looking in the mirror and sobbing. Anyway, Morning Joe brought Schock on this morning to discuss the initiative and somehow refrained from force-feeding him burgers so as to bring down the handsomeness curve for the rest of us.
Schock promised Willie Geist that, no, his cover is not the product of the photoshop diet but rather that of good ol' fashion working out and eating healthy. He gave some alarming statistics about the dire situation regarding America's health and explained how easy it was to get in shape even without expensive gym memberships. Schock was then asked if he ever worried that his shirtless pictures in Men's Health and TMZ (sample headline: "Illinois Congressman Is Schockingly Hot") might distract from his serious work.
God, wouldn't it be nice to have someone ask you if you were too good looking for your job? Why doesn't that ever happen to us normal people?
You know what? How dare Aaron Schock make us feel fat! We should all gang together and make a smear campaign calling him a fascist! That's the American way!
Now, back to the mirror for more sobbing.
Check out the clip from MSNBC:
Have a tip we should know? tips@mediaite.com