Morning Joe Dissects Romney's Commments On France Vacation: 'That'll Win 'Em Over In Scranton'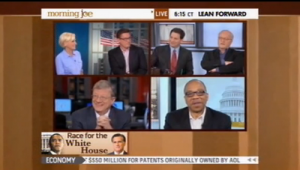 On Tuesday, the Morning Joe panel turned its attention to Mitt Romney having recently shared that he looks forward "to occasional vacations again in such a beautiful place" as France. Were the presumptive GOP nominee's comments simply adding more fuel to the argument that he's out of touch?
RELATED: Missionary Re-Position: Mitt Romney Looks Forward To 'Occasional Vacations' In France
"That'll win 'em over in Scranton," joked host Joe Scarborough.
"The other night," said guest and PBS host Michael Barone Jeff Greenfield. "Ann Romney gave a speech which, by every description, is one of the more emotionally connecting. She talked about the life she's lived. We may wind up with her on the debate platform with Obama. It was exactly the kind of, 'Oh, I get who this person is and where the family was.'"
By contrast, he continued Mitt Romney is "the guy who learned to dance at Arthur Murray's and has no feel for it."
Scarborough tried to find a silver lining.
"It is amazing. Mark Halperin, you can't believe he said it," said Scarborough. "That said, as a Republican who has been looked down upon by liberals in the media for a very long time, being a part of the party where, you know, half the members don't have passports. they are 'American Firsters.' I mean. There's a positive side to that."
Greenfield thought this might be a "defining moment" in Romney's campaign, joking that rather than being asked if he wears "boxers or briefs," as former President Clinton once was (by a "comely young lady," at that) , he'll be asked "Beaujolais or Bordeaux?"
"I don't like to make a big deal about individual things like that," said Mark Halperin. "I just think that you don't have to answer the question. I don't care if a French reporter wants to know your fond memories of France. Don't answer."
"I think Rick Perry had the best line when he said, standing next to Romney, he wondered when he was going to ask if he had Grey Poupon," added Eugene Robinson.
Have a look at their discussion, via MSNBC:
Have a tip we should know? tips@mediaite.com