As we have seen in the past, the Morning Joe crew had a lot to say about last night's MTV VMAs this morning, from Kanye West's totally sincere announcement of a 2020 presidential run to the scantily-clad spectacle that was host Miley Cyrus.
"Hey, if Donald Trump can be the Republican frontrunner in the summer of 2015, there is no reason why Kanye West can't be the Democratic frontrunner in the summer of 2019," John Heilemann said. Meanwhile, Joe Scarborough wanted to know why we should assume that West would run as a Democrat. After all, "Trump used to be a Democrat."
But things really heated up when Mika Brzezinski started talking about how Miley Cyrus has "jumped the" something and put this photo on the screen: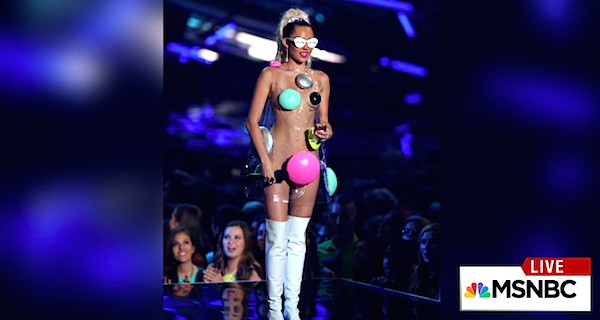 "Oh, that's just gross," Scarborough said. "Oh my God, I would rather see Hugh Hewitt in that than Miley Cyrus. That is just repulsive."
"Put it back up, scare the children. Because children should be scared," Brzezinski said after the photo had come down. "I think young people are actually kind of grossed out, horrified by what she's doing," she insisted, without much evidence to back it up.
Watch video below, via MSNBC:
Later in the show, Morning Joe dedicated another full segment to the VMAs, with Scarborough repeating his "repulsive" assessment of Cyrus and Brzezinski calling her "disturbed." She added, "I don't think anybody wants to see anymore of her. There's not a crevice you haven't seen, there's not a spot on her body you haven't seen and at some point it just becomes like porn: It's too much."
Watch video below, via MSNBC:
[Photo via screengrab]
— —
>> Follow Matt Wilstein (@TheMattWilstein) on Twitter
Have a tip we should know? tips@mediaite.com