Morning Joe Explodes: Matt Lewis & Thomas Roberts Trade Blows over 'Disgusting' Duck Dynasty Star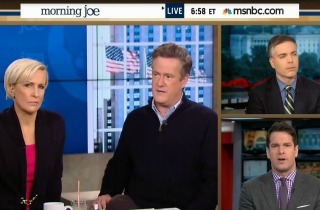 MSNBC's Morning Joe panel exploded Friday into a tense debate about the "double standard" that exists in American culture; one that purportedly holds conservative icons to higher standards of conduct than it does to typically left-leaning artists and entertainers. MSNBC anchor Thomas Roberts and The Daily Caller columnist Matt Lewis scuffled over whether suspended Ducky Dynasty star Phil Robertson was a victim of this double standard.

The segment got off to an early fiery start when host Joe Scarborough challenged Roberts to defend disciplining Robertson when "rock stars" get away with far more abhorrent conduct.
"But that's from an artist," Roberts counter. "This isn't a rock star. This is a guy that grows a long beard and made a fortune out of luring ducks to an untimely death."
RELATED: Robertson Family Issues Statement on Duck Dynasty's Future on A&E
"Phil Robertson has no constitutional the right have a TV show, but I worry about the chilling effect whereby if you express a politically incorrect viewpoint you're now being sort of shamed and you could be fired," Lewis submitted.
"Did the Daily Caller come out to defend Martin Bashir's right to free speech?" Roberts interrupted.
"I would also say that's a false equivalency," Lewis countered.
"Free speech is free speech," Roberts shot back. "It's a suspension, Matt. It's not fireable."
"The message is simple: If you disagree with homosexuality politically or from a religious standpoint keep your mouth shut," Lewis added.
Mika Brzezinski insisted that this was incorrect. She insisted that, if Robertson had phrased his comments more appropriately, the fallout would not have occurred. "What he said was disgusting," she insisted. "You're holding him up like he's some sort of thought leader."
Scarborough closed the segment by insisting that the "hypocrisy here is outrageous." He insisted that he and his staff should assemble a list of inflammatory comments made by those on the left and see how many of his guests believe that should cost them their jobs.
Watch the clip below via MSNBC:
[h/t The Hill]
[Photo via screen grab]
— —
> >Follow Noah Rothman (@NoahCRothman) on Twitter
Have a tip we should know? tips@mediaite.com