Morning Joe: Gingrich's Favorable Romney Comment May Mean 'It's Over For Santorum'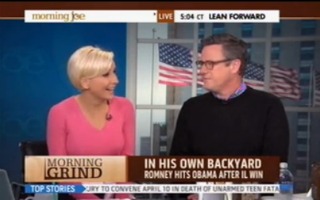 On Wednesday, the Morning Joe crew took a look back at Tuesday night's Illinois primary, wondering whether Mitt Romney's win in the state — and Newt Gingrich's rare round of compliments for his Republican rival — might signal the beginning of the end for Rick Santorum.
"Ok," said host Mika Brzezinski. "It's over? Is it over? It's over. Let's stop this."
RELATED: Mitt Romney Wins Illinois Primary
According to political adviser Mark McKinnon, Santorum and Romney's respective futures in this race hinge on Gingrich:
A couple of observations. One, Romney really improved his standing among college voters, voters making over $100,000, and those who would identify as liberal and moderates. He improved by 13 points, 12 points, and 14 points in each of those categories. So that was significant. But what I find most significant about last night in the overall dynamics about what will happen long run is not the numbers, but apparently what Gingrich said about Romney last night. What's really important ultimately here is what Gingrich does… Because if he stays in or somehow lends his support to Santorum, that's where things get problematic. But if it's truly just a two-man race, then Romney is on his way.
Gingrich had said Romney was taking a step towards "clearly proving he was the front-runner," whereas Santorum "did not have a particularly good day."
Harold Ford, Jr. was more blunt in his assessment. "I think that it's over for Santorum," he said. "I think it's been that way for a while. I think if you look at the numbers last night and you even give all of Gingrich's support to Santorum, Santorum has suggested that Gingrich is splitting the conservative vote. That may be the case in the South, but if you added Gingrich's vote to Santorum's vote, he still would have lost to romney last night. So I think it bodes well and suggests a stronger Romney as he prepares now to be the nominee."
Have a look, via MSNBC:
Have a tip we should know? tips@mediaite.com